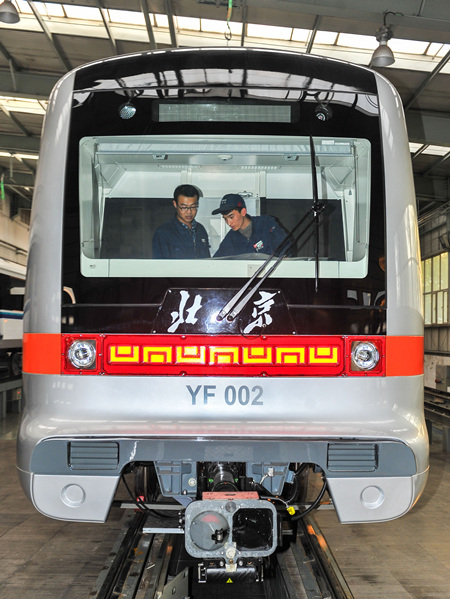 Staff workers with the CRRC Changchun Railway Vehicles Co test a subway train to be used in Beijing's Yanfang Line.[Photo/Xinhua]
Beijing plans to unveil the country's first self-developed fully automatic subway next year, with the scheduled opening of the Yanfang Line.
The line connects Yanshan, a suburb built around a petroleum and chemical enterprise, to Fangshan, where passengers can transfer to trains bound for the center of Beijing.
Its operating system, which needs no driver or attendant, is currently undergoing factory testing, and is expected to launch by December 2017.
The benefits of a fully automated subway system include greater safety, better efficiency and less workload for the operators. Such systems are therefore growing in popularity worldwide.
"It's the new trend in the field of urban railway systems," said Wang Daomin, a deputy manager who works for the Beijing metro construction administration.
"This will signify that China has reached the international level in this field."
Apart from the Yanfang line, at least four other lines will use the fully automatic system, Wang said.
Over the last 40 years, the growth rate for automated subways has doubled with each passing decade, according a report issued by the International Association of Public Transport.
It estimated that by 2020, three quarters of newly-built subway lines will be fully automatic.
The introduction of the technology is just one of 140 projects that are being sponsored by Beijing's transport authority to bring added levels of convenience and increase safety.
One, called "Beijing real-time bus", provides real-time bus locations to smartphone users, as well as the estimated time of arrival of a bus at a particular stop.
Factors like traffic jams and traffic lights are included in the algorithms to provide more accurate predictions. Beijing hopes to use similar technology with its network of public bicycles, taxis and parking lots.
"We expect to launch an information network covering the city's 2,000 public bicycle stations in the second half of this year," said Zhang Guanglian, deputy director of Beijing Municipal Science and Technology Commission.
Other innovations unveiled at the news conference included real-time diagnosis systems for trains' running gear, light fire trucks and high-tech fire suits.
Contact the writer at dujuan@chinadaily.com.cn