Universities open campus for better road network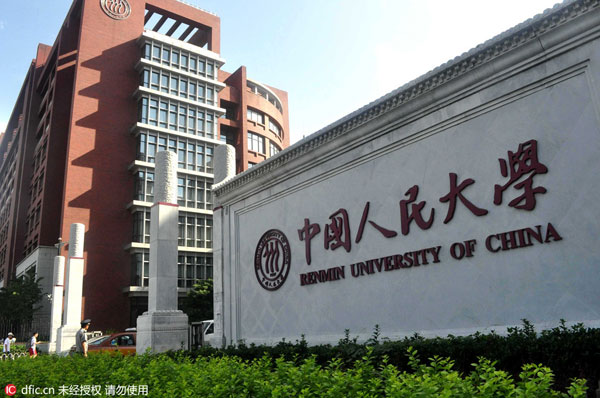 The front gate of Renmin University of China. [File photo/IC]
Several universities in Beijing have opened their gated campus to connect their inner campus roads with public roads to build a smoother transportation network, Beijing Evening News reported.
Renmin University of China, University of Science and Technology Beijing, Beijing Institute of Technology, China University of Political Science and Law and Beihang University have already rearranged the boundary line of their campus roads in a pilot project that aims to transform the layout of the areas' road system.
The move is the latest implementation of the city plan guideline issued by the State Council in February. The guideline promotes "open communities", which requires walled residential communities and administrative unit compounds to share their roads for public use.
The aim is to "optimize city transportation network and use of land", according to the guideline.
The plan immediately triggered a heated debate online and many Internet users expressed concerns about their property rights and safety if the communities are opened up.
The government, in response, said that old communities will "gradually" open to the public, which means no one-size-fits-all approach and no immediate action will be taken. It also promised residents' interests to be ensured while opening the gated communities.
In March, Sanlihe area in Xicheng District in Beijing, where many administrative unit compounds including the Ministry of Finance are located, became the first area to practice "open communities".
According to the plan map, Sanlihe Second South Alley, five meters wide, is scheduled to be rebuilt into an 18-meter-wide road by dismantling some low-rise buildings, to connect north and south through the area.
The city planning authority said that the pilot universities were selected in consideration of their land use status and surrounding traffic condition, aiming to open the dead-end roads and improve overall urban efficiency.