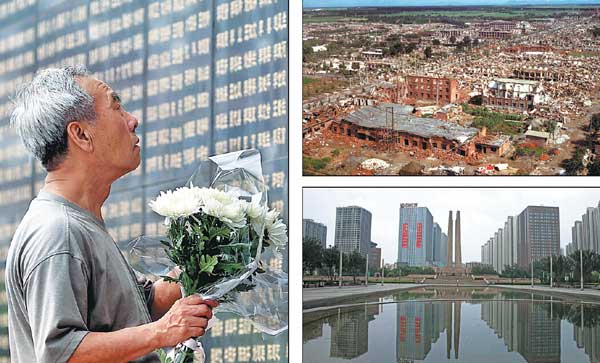 A man mourns his mother, a victim of the earthquake, at a memorial park in Tangshan, Hebei province. Tangshan lies in ruins after the devastating earthquake in 1976. An earthquake monument stands at the edge of a pond in the rebuilt Tangshan. PHOTOS BY WANG ZHUANGFEI / CHINA DAILY AND XINHUA FILE PHOTO
Editor's note: Today marks the 40th anniversary of the Tangshan earthquake, which claimed more than 240,000 lives. China Daily talks with two people, brought together by the injuries they suffered, who have spent four decades rebuilding their lives.
Forty years ago, when Gao Zhihong had just graduated from college, the then-25-year-old returned home to visit her family. The joy of reunion didn't last long: 10 hours after Gao's arrival in Tangshan, Hebei province, the city was hit by a massive earthquake that caused more than 240,000 deaths.
That night, Gao's life was turned upside down.
She arrived in her hometown at about 6 pm on July 27. "My whole family was so happy to see me. My sister and I planned to go shopping the next day," the 65-year-old recalled, her memories not dimmed by the intervening years.
The sisters' shopping expedition never materialized. At about 4 am, a magnitude-7.8 earthquake hit Tangshan. Gao's father and sister were killed, while she and her mother were left paralyzed. Her two younger brothers were luckier, escaping with superficial injuries.
More than 240,000 of the city's 1 million urban inhabitants died in the quake, regarded as one of the most destructive in history. In addition, 160,000 people were seriously injured — more than 3,800 were paralyzed — and more than 4,200 children were orphaned.
"My mother shook me awake when the quake occurred. My father ran toward the door, and I saw a concrete beam fall from the roof and hit him. I got up and ran to him, but I was hit by another falling beam. I was wedged between two of the beams, unable to move. I saw my father die," she recalled, her voice choked with emotion.
"It was so dark. I heard my brothers shouting my name, but I couldn't move and I was too weak and in too much pain to respond."
Gao was buried under the debris of the family home for about 10 hours until one of her brothers managed to free her.
Shortly after the quake, Gao Zhihong was transferred to Xuzhou, Jiangsu province, and then Cangzhou in Hebei for treatment on her legs. She did not return to Tangshan until 1980.
Gao's boyfriend broke off their relationship when he learned she would never walk again. "I was desperate, I cried myself to sleep every night for several years," she said.
At the time, she was unaware that her future husband was in the same position. Yang Yufang, then 26, was also paralyzed in the quake, and was sent to larger cities for medical treatment. He found it hard to accept that his life had changed for good.
"When I returned to Tangshan, I put some clothes over my head, so I couldn't see the destruction in the city. Also, I was afraid to be seen; I was so ashamed of being crippled," said Yang, whose father and brother died in the quake.
Although it took a long time, he was eventually able to accept the reality of the situation. "What happened had happened. I couldn't rewrite history. There were only two paths in front of me-to live or to die. I chose to live," he said.
"There was no use being angry or resentful. Once I had chosen to live, I had to face reality, to accept it and make the best of it."