Students question whether going abroad was right investment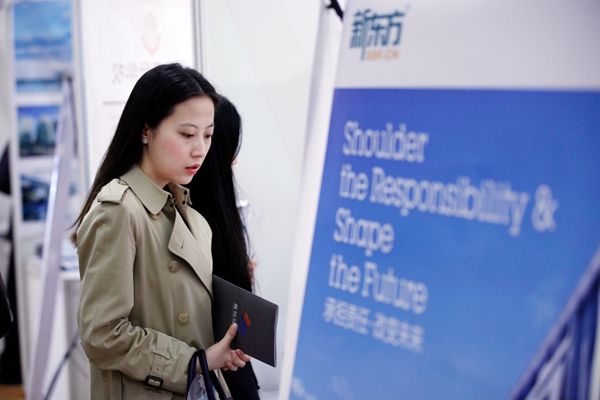 A woman looks for employment opportunities at a job fair specially held for overseas returnees in Beijing on March 29, 2014. [Photo/VCG]
Many students find their salaries do not meet their expectations when they return from abroad after graduation, reported Xinhua.
A returnee, surnamed Dong, found herself left out in the cold at job fairs in China despite holding a master's degree from the UK.
Dong, who spent about 500,000 yuan ($74,963) for the one-year postgraduate degree, said she thought her salary would be two times that of the domestic graduate, but "actually the salary was more or less the same."
The gap between the investment in foreign education and return, in a narrow sense of the salary back in China, makes it difficult for those coming back to be satisfied with their job.
According to a study conducted by Chinese Service Center for Scholarly Exchange, a public organization under the Ministry of Education, the monthly salary of those coming back from abroad with master's or PhD degrees stands between 5,000 and 10,000 yuan, while those with bachelor's degree or below under 5,000 yuan.
Another Report on Employment Situation of Overseas Returnees in 2014 issued by EIC education, an overseas educational counseling service provider, shows that 96 percent of returnees refused job offers, out of which 62.7 percent rejected due to unsatisfactory salary.
Zhang Li (alias) said while she was busy writing thesis during her study in Australia, the domestic graduates had already found job in campus recruitment. When she came back to China after graduation, she discovered that many sought-after recruiters had stopped hiring. She was eventually employed by a company with her parents' help.
"I was rejected many times. Recruiters did not care about my foreign experience or my English-language skills, which made me doubt whether I made the right decision to go abroad," said Zhang.
"Foreign companies now pay more attention to localization," said Zhang Rui, who works at human resources department of a noted American company. "Some companies have even canceled English interview and only require employees capable of daily communication and email exchange in English."
Zhao also said that except students from a few prestigious business colleges, foreign companies now prefer recruiting domestic graduates.
Apart from salary, another reason that troubles those coming back in search of job is that their majors are either too hot or too cold.