Students question whether going abroad was right investment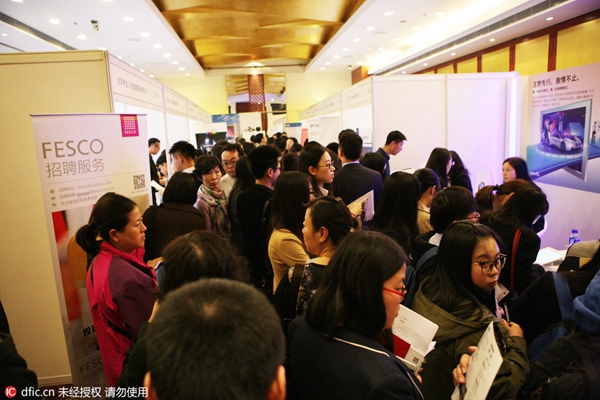 More than 3,000 job seekers attend a fair specially held for overseas returnees in Beijing on March 28, 2015. [Photo/IC]
Xinhua reported that most of students going abroad pursue business studies and social sciences. They are expected to compete fiercely for same jobs.
According to 2015 Report on Employment and Entrepreneurship of Chinese Study-abroad Returnees released by Center for China and Globalization, 14.3 percent of returnees were employed in the financial industry, followed by 7.2 percent in trade and retail sales, 6.9 percent in property and construction, and 5.5 percent in internet industry.
For those who started their own business, 18.6 percent of returnees devoted themselves to new bioengineering/new medicine, followed by new generation information technology (NGIT) and trade and retail sales both attracting 13.6 percent of returnees.
Other students, on the other hand, studied some courses that are not popular in China's job market, such as psychology or religion. These majors also felt pressure in job seeking.
What has made the situation bad is that some students' competence has come under spotlight in recent years.
After the 2007 financial crisis, some countries turned education into an industry that will support their economic growth. They expanded enrollment of international students and collected tuition fees to support the running of educational institutions. The quality of these money making machines failed to convince recruiters.
Qi Lixin, President of Beijing Entry & Exit Service Association, said that overseas students usually have an international vision, think independently, adapt rapidly to new changes and are good at communication, which are driving forces in the development of their career whether they are employed or start a business.
Students are expected to complement their knowledge of theory through overseas study and make use of research conditions that are lacking domestically, said Qi, adding that the returnees should "neither be expected too much nor looked down upon".
Some experts said that with the popularization of overseas study, the experience of going abroad will not be as "golden" as before.
Despite returnees adapting to the changes, society should also treat them with reason, creating a favorable environment for returnees to make their contribution to the development of country, said Xinhua.