Growing overseas returnees drawn to new boomtowns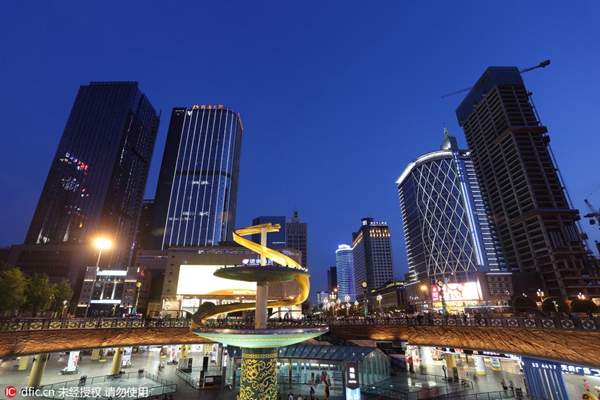 A night view of Chengdu on April 17, 2016. [Photo/IC]
Five years ago, Du Juan, a native of Chengdu, Southwest China's Sichuan province, was wondering where to go for work after she graduated from Michigan State University.
"The overseas life is not as exciting as spending time with family members and friends back in China," Du told The Rising Lab, a data news outlet of Shanghai-based business news magazine CBN weekly. So she decided to seek a job in China rather than stay in the US becoming a part of the growing wave of students from abroad.
According to Report on Entrepreneurship and Employment of Chinese Overseas Students released by Center for China and Globalization in 2015, there has been a 78.4 percent increase in students coming back to China since 2010.
Another Report on Employment Trend of Chinese Overseas Study Returnees issued by LinkedIn shows that among 7.2 percent LinkedIn members who are Chinese and have studied abroad, the number of people choosing to return is rising with an average increasing rate of 7.14 percent annually during 2010 to 2015.
Like many business graduates who anchored themselves in China's first-tier cities, which usually refer to Beijing, Shanghai, Guanghzou and Shenzhen, Du Juan, an accounting major, found a position in PricewaterhouseCoopers Shanghai office.
Various job opportunities and rich resources in the financial sector attracted Du to Shanghai, China's financial center. "Top financial institutions arrange more main business and key positions in the first tier cities ", said Du.
But after one year of work, Du started to review her job and working environment. She was not satisfied with the repetitive work, overtime and high pressure. Shanghai's high living cost, natural environment and cultural identity also strained her nerves.
By comparison, her hometown Chengdu, a second-tier city or "new first-tier" city, was on her mind, especially as Chengdu is developing fast and is catching with top cities.
According to LinkedIn's report, the number of overseas returnees who choose their first job in first-tier cities has fallen, while the number choosing "new first-tier" cities such as Hangzhou, Wuhan, Chengdu went up between 2010 and 2015.