Investment, help with efforts for cross-Straits unification are urged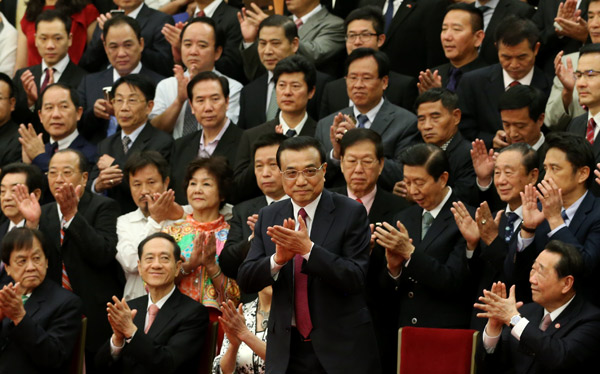 Distant relatives
Premier Li Keqiang meets with representatives participating in the eighth Conference for Friendship of Overseas Chinese Associations in the Great Hall of the People in Beijing on Thursday. WU ZHIYI / CHINA DAILY
Premier Li Keqiang has called on overseas Chinese to invest steadily in China and contribute to cross-Straits unification.
"Overseas Chinese are welcome to invest and start their businesses in the motherland, as China is shifting from reliance on natural resources to human resources and promoting innovative industries," he said.
He made the remarks on Thursday when meeting more than 700 participants from 136 countries and regions.
They were attending the eighth Conference for Friendship of Overseas Chinese Associations, hosted by the State Council's Overseas Chinese Affairs Office. The office has held seven conferences since 2001, extending its gratitude to more than 60 million overseas Chinese worldwide.
Li said the Chinese mainland and Taiwan belong to one country, and he hoped overseas Chinese would continuously support and make their own contributions to national unification.
Addressing the participants at the Great Hall of the People, Li said, "For a long time, overseas Chinese have made great achievements in their own fields and crucial contributions to China's economic and social development, and I hope you will continue to do so."
However, facing international and domestic challenges, China has to cultivate new economies by deepening reforms and promoting innovation to achieve medium- to high-speed growth.
"China is still one of the most attractive destinations for investments, and overseas Chinese are welcome to invest in these new areas," he said.
One of the participants was He Ruyi, director of the China-US Cultural Exchanges Center and an organizer of the welcoming ceremony in Washington for President Xi Jinping when he paid a state visit to the United States in September.
Born in Shenyang, the capital of Liaoning province, He left for Maryland in 1988 and now works for the US Food and Drug Administration's Center for Drug Evaluation and Research.
"Today, we have so many compatriots coming together and received by the premier. It was encouraging to see him, showing the importance the Chinese government attaches to us," He said.