Xi calls for restraint, dialogue
President tells DPRK delegation that stance on Korean Peninsula issues is clear and consistent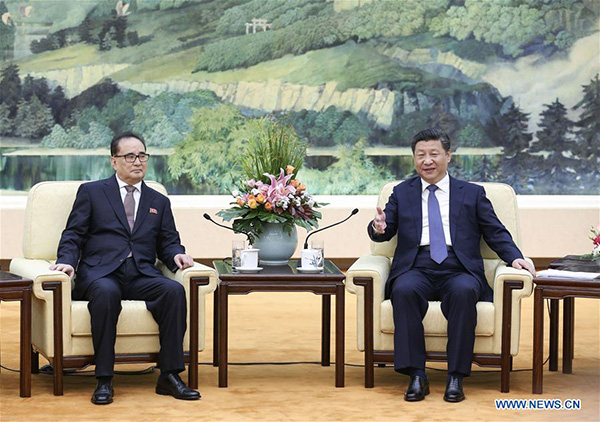 Chinese President Xi Jinping (R), also general secretary of the Communist Party of China (CPC) Central Committee, meets with a visiting delegation of the Workers' Party of Korea (WPK) from the Democratic People's Republic of Korea (DPRK) led by Ri Su Yong, a member of the Political Bureau of the WPK Central Committee, vice chairman of the WPK Central Committee and director of the party's International Department, in Beijing, June 1, 2016. [Photo/Xinhua]
China's stance on the Korean Peninsula is consistent and clear, President Xi Jinping told a high-level Democratic People's Republic of Korea delegation in Beijing on Wednesday, urging those involved to maintain regional peace and stability.
Speaking with the delegation led by career diplomat Ri Su-yong, Xi said that China hopes the parties concerned will stay calm and restrained and enhance communication and dialogue on peninsula issues.
The delegation arrived in Beijing on Tuesday for a three-day visit. It was the first by a top DPRK official to China since the DPRK conducted a series of nuclear tests and missile launches early this year, defying United Nations sanctions.
Ri served as the DPRK's foreign minister from April 2014 until he was named a member of the Politburo during the recent Korean Worker's Party congress.
The visit reflected that DPRK top leader Kim Jong-un and the DPRK Workers' Party Central Committee attach great importance to the relationships between the two parties and the two countries, Xi said. He also expressed his wish that the DPRK's people will accomplish more in developing the country's economy and improving people's livelihoods.
Zhang Liangui, an expert on Korean studies at the Party School of the CPC Central Committee, said that Pyongyang has two main purposes for the delegation's visit: pushing China to lift sanctions and to acknowledge the DPRK's status as a nuclear country.
"China should firmly stick to its longtime principle of denuclearization of the Korean Peninsula, which is among China's core interests," he said.
Ri conveyed a message from Kim to President Xi, in which Kim expressed willingness to work with China to strengthen and develop the DPRK-China traditional friendship, and to maintain peace and stability on the Korean Peninsula and in Northeast Asia.
Ri also briefed Xi about the Seventh Congress of the Workers' Party of Korea, which was held in early May and was the first such DPRK congress in nearly 40 years. During the congress, the country formally endorsed the policy of expanding its nuclear arsenal.
"For the DPRK, it is important to improve ties with China to ease the impacts of international sanctions," the Republic of Korea's Yonhap News Agency quoted Kim Heung-kyu, head of the China Policy Institute, as saying. "But it is too early to say that Ri's visit will lead to the onset of an improvement of their strained relations."
anbaijie@chinadaily.com.cn