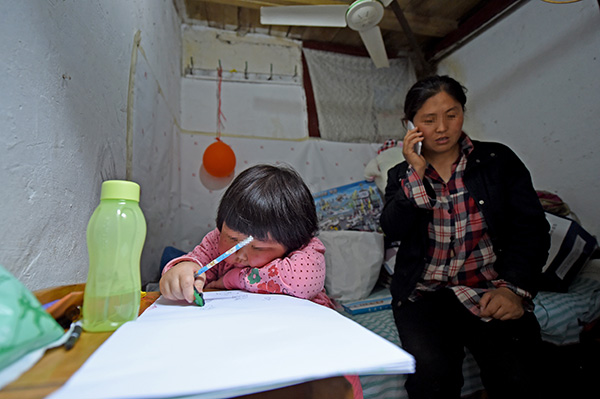 A woman surnamed Liu, who stole a fried chicken drumstick and a storybook as a gift for her sick daughter, makes a phone call in the tiny room she rented in Nanjing, Jiangsu province, on Wednesday. DUAN RENHU/CHINA DAILY
A mother who was caught stealing a fried chicken drumstick and a storybook as a gift for her sick daughter on International Children's Day has ended up warming the hearts of the public.
The woman, surnamed Liu, was stopped by supermarket staff in Nanjing, Jiangsu province, on Tuesday evening, the day before.
But after she told her story to police, they decided to raise money for the mother and her twin daughters.
"It was the first time that I'd ever given money to a thief," police officer Pan Shunqin said in a post on WeChat after taking the woman to the police station.
Liu, 36, gave birth to the girls in 2009. Both were diagnosed with a kidney disorder when they were 18 months old. The girls' father left because of the economic burden.
She earns 30 to 40 yuan ($4.60 to $6.15) per day working at a garbage sorting station, but she must spend around 3,000 yuan for the girls' medical bills each month and is heavily in debt.
In late May, Liu took one of the girls to a Nanjing hospital. To save money, they stayed in a tiny room that cost 30 yuan per day, instead of in the hospital.
The sick girl said that her Children's Day wish was a chicken drumstick, but the mom had used up most of the money she had borrowed from relatives. She only had 5 yuan in her pocket, and a chicken drumstick cost 7 yuan at the supermarket.
She hid the stolen drumstick in her clothes, along with more food and a storybook that her daughter had dreamed of for months.
Pan said the amount of money involved in the case-about 90 yuan-was far too low to consider it a crime, so she was released that night.
However, he was bombarded with donations after he posted the message on WeChat. He has received around 50,000 yuan from colleagues and friends, as well as more than 300,000 yuan from strangers.
"We'll decide whether we'll restart the online donation channel for the twins after the doctors' professional assessment of their physical condition. The money that has been raised is enough for now," Sina Jiangsu, a public account on Sina Weibo and the initiator of the microblog fundraising campaign, posted on Wednesday night.