As Beijing marked the first anniversary of China's toughest anti-smoking measures, experts called for stronger regulations to safeguard the population. Wang Xiaodong reports.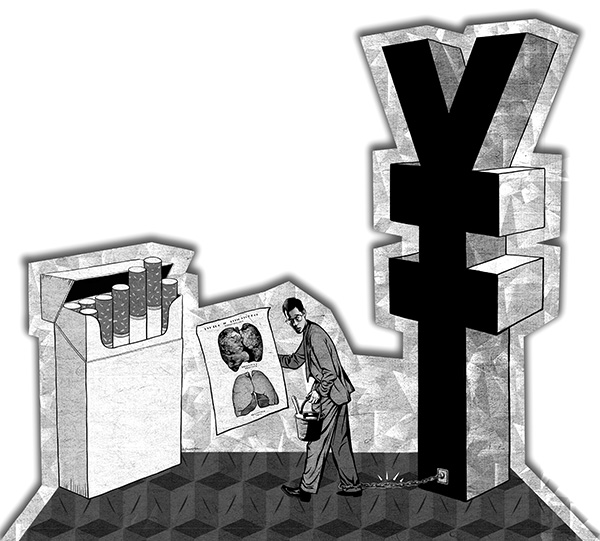 LI MIN/CHINA DAILY
The World Health Organization and leading health experts in China are calling for the country to follow the global trend and promote plain packaging and graphic warnings on cigarette packs to reduce tobacco use.
The organization's call for all countries to prepare for plain, or standardized, packaging of tobacco products came as Beijing marked the first anniversary of an anti-smoking law, which came into force on June 1 last year, and World No Tobacco Day, which fell on May 31.
"Plain packaging is an evidence-based measure that can save lives and protect public health," said Bernhard Schwartlander, the organization's representative in China. "Plain packaging makes tobacco products less attractive, stops tobacco companies using the pack as a marketing tool, and increases the effectiveness of health warnings.
"WHO recommends plain packaging as part of a comprehensive approach to tobacco control: it works best alongside other tobacco-control measures, including comprehensive anti-smoking laws, bans on tobacco advertising, promotion and sponsorship, raising tobacco taxes and large, graphic health warnings," he said.
Wu Yiqun, vice-director of the ThinkTank Research Center for Health Development, an NGO in Beijing that is committed to tobacco control, said: "China lags behind many other countries in promoting plain packaging and graphic warnings.
"Most major countries require graphic warnings to be printed on tobacco packs, but there is no sign that similar measures will be adopted in China anytime soon. We cannot wait. We must take action right now."
China is the world's largest producer and consumer of tobacco products, and has the world's largest population of smokers-more than 300 million people. Tobacco-related illnesses cause more than 1 million deaths every year in the country, and more than 700 million people are exposed to second-hand smoke, which poses a health risk, according to the National Health and Family Planning Commission.