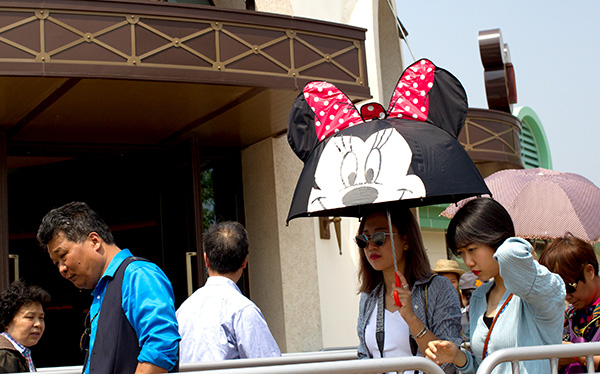 A Mini Mouse umbrella can't shorten the wait time of at least 30 minutes for shoppers at Disney's theme park in Shanghai after the park's soft opening in May. GAO ERQIANG/CHINA DAILY
Huge crowds at the highly anticipated Shanghai Disneyland, which is forecast to draw 10 million visitors annually, may discourage Shanghai residents from visiting Disney's first theme park on the Chinese mainland, a poll showed.
Roughly two in three Shanghai residents shook their heads when asked whether they will visit Disneyland this year, according to the poll conducted by the Shanghai Bureau of Statistics in April and published on Friday. Avoiding big crowds is the main reason.
Among those who said they will visit Disneyland this year, more than 37 percent said they will take one or two workdays off to visit the resort to avoid huge lines, according to the survey that polled 1,800 residents older than 16.
Tourists have shown great passion for Disneyland, which is the third in Asia following one in Tokyo and another in Hong Kong.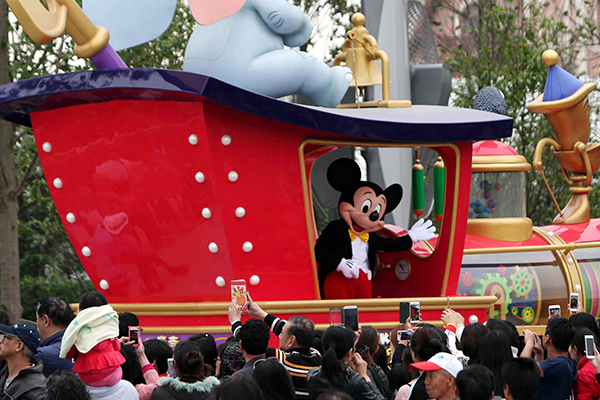 Visitors take photos during a parade at the Shanghai Disneyland park. [Photo/Xinhua]
All tickets for the first two weeks after its official opening on June 16 are sold out, and on average more than 40,000 people visited the theme park during the trial run that began on May 7, Wang Kai, vice-president of the Shanghai Disney Resort's public affairs, told a media briefing on May 19.
Lu Yun, who stayed overnight in the resort over the past weekend, said the trip was worth it in terms of the amusement, setting and dreamlike atmosphere, but the experience was more or less impaired by the large crowds and she was sure she won't go again this year.
She also mentioned potential safety hazards.
"Numerous people waited at the entrance of that part of the theme park and set off like they were competing in a running contest when staff let us in. It seemed that a stampede could happen easily and some people even ran with their children," she said.
Zhou Hong, who paid a visit with her mother and husband last week, also said they felt discouraged from paying another visit.
"The lines will undoubtedly be longer after the theme park is officially open. Although there are some destinations that I unfortunately couldn't try this time, either because they were not in service during the trial or the long lines. I'm sure I will put off my next trip to Disneyland to next year or even sometime later," said Zhou, a media worker.
But still, the Disneyland experience on the whole was perfect, she said.