Growing overseas returnees drawn to new boomtowns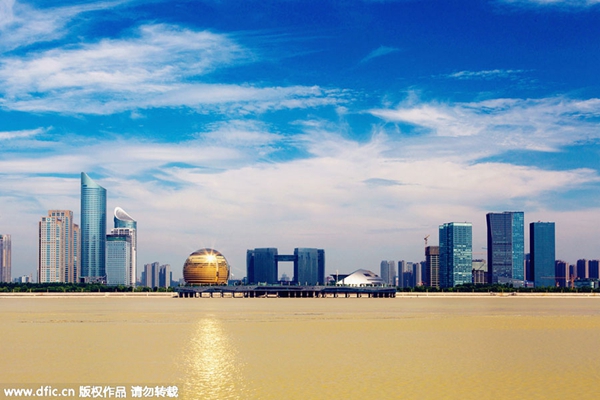 The skyline view of the Hangzhou CBD on July 1, 2012. [Photo/IC]
According to LinkedIn's report, Hangzhou ranks first both on number of returnees and increasing rate of returnees between 2010 and 2015.
Cheng Yuan, who set up his IT company Fangcloud Technology in Hangzhou in 2013, believes the city has the strongest entrepreneurial atmosphere in China except Beijing.
The computing master of the year 2009 from Carnegie Mellon University served as the core engineer of the then-startup Box, which later grew into America's largest cloud storage service provider for businesses. He witnessed the company's growth and had an all-around vision of Silicon Valley's entrepreneurial atmosphere.
Cheng's standard of a city's entrepreneurial atmosphere is that entrepreneurship becomes a city's driving force, drawing technology, talent, capital and public opinion for the city's development.
"Hangzhou has pioneering companies, such as Alibaba and Netease. They are bringing together IT talent and other IT companies," he said.
Top 20 cities with highest increasing rate of returnees (2010-15)
1. Hangzhou
2. Wuhan
3. Chengdu
4. Changsha
5. Chongqing
6. Nanjing
7. Guangzhou
8. Xi'an
9. Taiyuan
10. Harbin
11. Hefei
12. Zhengzhou
13. Urumqi
14. Shijiazhuang
15. Nanchang
16. Wenzhou
17. Kunming
18. Zhuhai
19. Jinan
20. Ningbo
Data from LinkedIn