More students returning from overseas to start business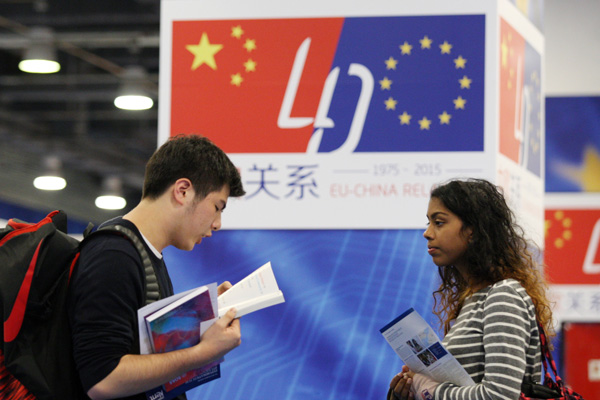 A student attends the 2015 China Education Expo in Beijing, Oct 25, 2015. [Photo by Wang Zhuangfei/China Daily]
A record number of students who have studied overseas are coming home to start their own businesses, according to a report by the National Development and Reform Commission(NDRC), China's top economic planner.  
By the end of 2014, the country had a total of 305 start-up business incubators designed especially for students returning from abroad. These so-called "overseas students pioneer parks" are home to 22,000 start-ups, employing 63,000 returned students who have studied overseas, the report shows.
From 2008 to 2015, China's "Recruitment Program of Global Experts" (1,000 talent plan) has introduced 5,208 high-level talents from overseas. The plan also funded 307 returnees in high-tech enterprises, with 500,000 yuan ($74,800) or 200,000 yuan ($ 29,900) for each, and 70 million yuan in total from 2009 to 2014.
In 2014 alone, 29,000 related projects were docked with talents and capital, more than four times of the number in the previous year.
The number of Chinese students coming home for employment has hit a record high in recent years, Wang Huiyao, director of the Center for China and Globalization(CCG), told people.com.cn.
According to statistics released by the Ministry of Education, 523,700 Chinese students went overseas to study in 2015, marking a 14 percent year-on-year rise. Meanwhile, 409,100 students returned from overseas study last year, up 12 percent from 2014.
Another notable trend, the ministry said, was that the ratio of those going abroad and those coming back had narrowed from 3.15 students going overseas in 2006 for every one that returned, to 1.28 for each returnee in 2015.
The start-ups established by the returnees are focused on new biological and pharmaceutical engineering, new generation information technology, trade, wholesale and retail, High-end Equipment Manufacturing, cultural creative industry, energy conservation and environment protection.
According to a statement issued at a national working conference on services for returning Chinese students in 2011, about 80 percent of Nasdaq-listed Chinese high-tech enterprises were started by students who had returned to China after studying abroad.
Moreover, about 72 percent of project leaders with the country's national key research projects, and more than half of academics at the Chinese Academy of Sciences and the Chinese Academy of Engineering, the country's two leading scientific and technological research institutes, have international education backgrounds.