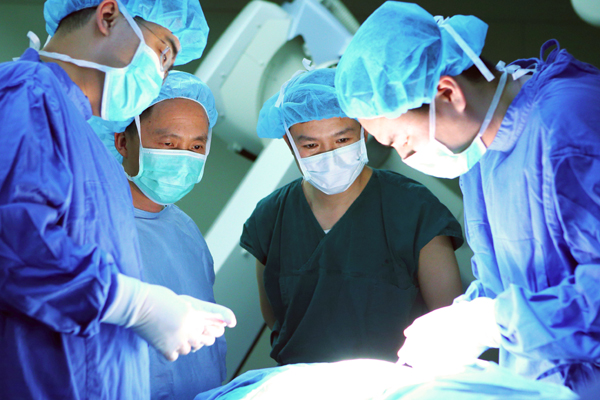 The Neurological Hospital of the Chinese Armed Police Force in Tianjin successfully completes the first transplantation surgery in the area of regenerated medical treatment to heal spinal cord injuries on Jan 16. [Photo/Xinhua]
Medical degrees are gradually losing appeal among collage candidates on the Chinese mainland, with none of the 36 top scorers in this year's national college entrance examination (gaokao) is willing to be a doctor, according to a thepaper.cn survey.
The survey shows more than 60 percent of the surveyed top scorers, from 22 provinces, tended to choose majors related to economy, followed by management (33 percent) and philosophy (8 percent).
Agriculture, medicine and military were at the bottom, with no interest at all.
When asked about their ideal professions, more than 30 percent of the gaokao champions selected industries related to banking, bonds and capital funds. About 19 percent chose education and scientific research. Another 11 percent said they wanted to practice law.
Meanwhile, three out of the four top scorers in Hong Kong's Diploma of Secondary Education (DSE) said they would like to be medical professionals.
A survey, jointly conducted by Beijing News, China's National health and family planning commission and the National Bureau of Statistics, indicates that from 2010 to 2014, 600,000 mainland citizens received qualifications to practice medicine, but only one sixth of them decided to be medical workers.
The most popular majors for top Gaokao examinees during the same period were business administration, economy, electronics and information engineering. Those who chose medicine accounted for only 1.2 percent of the total.
Not only are doctors unhappy with their jobs — they are discouraging their children from following in their footsteps.
The Chinese Medical Doctor Association found that 78 percent of the 3,700 doctors it surveyed in March 2011 said they didn't want their children to study medicine, while in 2009, 62.5 percent of the 3,200 subjects surveyed expressed the same opinion.
This may be a result of their increasingly tense relationships with patients in recent years.
In the latest serious case, Chen Zhongwei, a dentist in Guangzhou, South China's Guangdong province, died on May 7 after being stabbed 38 times by a former patient. The case aroused nationwide attention and put violent conflicts between doctors and patients in the spotlight again.
A medicine teacher surnamed Tong said that besides doctor-patient relationships, income was another reason for the falling interest. "Compared with USA and China's Hong Kong, the incomes of doctors in Chinese mainland haven't reach a standard recognized by the society," he said.
Medical degrees, which usually take a longer time to complete than other majors, bring incomes that hardly match the heavy workload, according to a report on employment by education research company MyCOS Institute. In 2014, the average monthly income for new doctors ranged from 2,710 yuan ($406) to 3,066 yuan ($459), significantly lower than new game designers' 5,273 yuan and Internet developers' 5,147 yuan.
In Hong Kong, medical students need to spend six years at school and then one year as an intern before becoming qualified doctors, with an average salary of 50,000 HKD in public hospitals and even higher in private ones. The average salary for other majors is about 10,000 HKD.
Zhou Qi, a medical master graduate, said that if given another chance, she wouldn't choose clinical medicine as her major.
"It takes one more year for medical students to get a bachelor's degree and major hospitals often require a PhD, which may take up to ten years to get. That's too much input," she said.