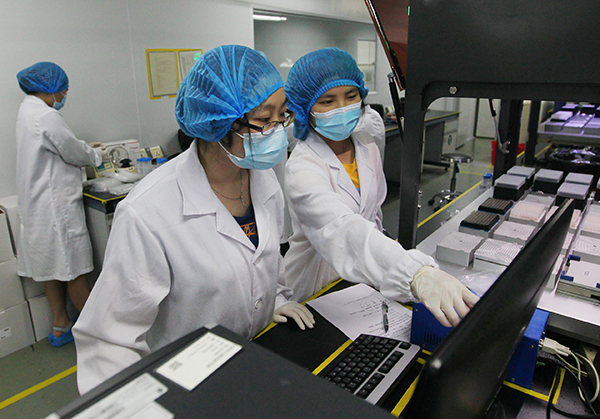 Researchers at BGI work in the lab in Shenzhen, Guangdong province. [Photo/CFP]
Research institutions in China are leading the world in the increase of high-quality output, according to a ranking released on Thursday.
The Nature Index 2016 Rising Stars supplement shows that 40 of the top 100 institutions that improved the most worldwide are from China. More than half of the 40 showed a growth of over 50 percent.
The supplement identifies the countries and institutions rising the most significantly in high-quality research publications.
The ranking is based on the change in the institutions' absolute contribution from 2012 to 2015 to the Nature Index, which tracks the research of more than 8,000 global institutions that is published in 68 high-quality natural science journals.
China's institutions, led by the Chinese Academy of Sciences, took the top nine places on the list of the world's 100 most improved institutions for high-quality science.
Shi Yi, a researcher at the Institute of Microbiology of the CAS, attributed China's achievements in scientific research to the government's financial support and to policies to entice talent to return to China.
"An increasing number of brilliant people studying or doing research overseas came back during the past 10 to 15 years," Shi said. "Meanwhile, ample resources were gathered and provided to ensure that researchers could generate world-class research output."
China has topped the list of the most improved countries in the index-both overall and in the four subject areas tracked by the index-for the past four years. The four areas are physical sciences, chemistry, life sciences and Earth and environmental research.
The United States, while remaining the largest contributor to high-quality scientific papers overall, had 11 institutions enter the list's top 100-the second-largest number.
David Swinbanks, founder of the Nature Index, said China has experienced an enormous rise in high-quality research output and is no longer considered a rising star because its trajectory is well established.
"Given that China's investment in R&Dis set to continue growing as it pushes ahead to become an innovation-driven country and a world-leading power in science and technology, this impressive upward trajectory seems likely to continue," he added.