Interpretation specifies sanctions for illegal fishing, entry in sovereign waters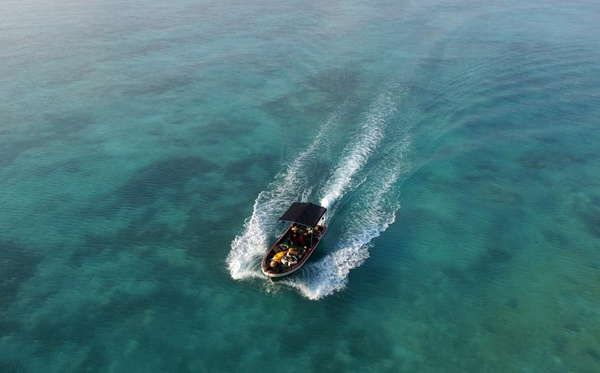 File photo taken on April 29, 2016 shows a boat moves on the sea near Zhaoshu Island of Qilianyu Islands in Sansha City, south China's Hainan Province. [Photo/Xinhua]
Fishermen illegally operating in waters administered by China are going to face tougher sanctions than being merely driven off, as has been the common practice until now.
The Supreme People's Court issued a judicial interpretation on Monday specifying standards for convicting and punishing those engaged in illegal fishing or entry into Chinese territorial waters and refusing to obey commands to leave.
Such acts will be considered as "serious" criminal acts and those responsible will be fined and sentenced to less than one year's imprisonment, detention or surveillance. In addition, Chinese and foreign nationals will be held criminally liable for illegally killing endangered wildlife in waters under Chinese jurisdiction.
The interpretation is aimed at helping Chinese maritime authorities better deal with thorny cases of infringements on sovereignty and economic rights, and of ecological crime in the South and East China seas. It took effect on Tuesday.
The court said it is "China's first full-scale judicial interpretation on maritime crimes".
Chen Chang, head of an observation and research station of the Chinese Academy of Social Sciences' South China Sea Institute of Oceanology, said that before the interpretation, Chinese law had difficulty in effectively restraining illegal fishing by neighboring countries, such as Vietnam.
Chen, who studies the deep waters off the Xisha and Nansha islands in the South China Sea, said some foreign fishermen had resorted to poison or even torpedoes to get their catch, seriously damaging the coral reefs.
Chinese authorities had few options but to drive them away, "which is not conducive to effective management or deterrence".
The new interpretation "offers viable provisions and a basis to support law enforcement", Chen said.
Under the interpretation, seas under China's jurisdiction include not only inland waters and territorial seas, but also such areas as contiguous zones, exclusive economic zones and continental shelves.
The interpretation covers Chinese citizens as well as organizations engaged in fishing in fishing zones or waters under comanagement of China and other countries.
Wang Hanling, director of the National Center for Ocean Affairs and the Law of the Sea of the CASS, said it is the first time that Chinese law has covered fishery zones jointly managed by China and neighbors.
Wang pointed out that under the interpretation both Chinese and foreign citizens who engage in illegal activity in the waters will be punished — "they are being treated on an equal footing" — and their lawful rights and interests are also guaranteed.
"The interpretation will help the agencies concerned to better exercise jurisdiction in the sea and protect China's maritime rights and interests," Wang said.
It further clarifies China's maritime jurisdiction based on Chinese law, the United Nations Convention on the Law of the Sea and the country's judicial practices, he said.