Airports, train stations will be off-limits to avoid direct competition with taxis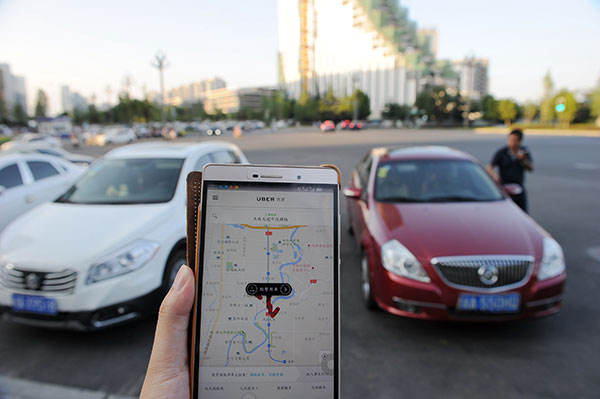 Drivers providing ride-hailing services must be licensed by the authority, a draft guideline said. Provided to China Daily
Draft guidelines to standardize online car-hailing services in China were published on Monday, following a decision by the State Council to recognize the business, and the merger of the top two car-hailing companies in the country.
The draft, issued by the Ministry of Transportation, lays out standards for the car-hailing services. It also bans the services from entering at airports and railway stations. Drivers must wait at certain parking spots.
Under the guideline, drivers providing ride-hailing services must be licensed by the authority, and it suggests that cars be equipped with wireless internet for customers, phone chargers and tissues, none of which regular taxis are required to have.
The rationale for the airport and train station ban involves fairness, one official said. Taxis are required to line up at airports and railway stations to pick up passengers. If private cars are allowed to receive passengers without lining up, it would not be fair for taxi drivers or their passengers who had to wait, said Cheng Shidong, director of the Integrated Transportation Institute of the National Development and Reform Commission.
If both types of services, the ride-hailing cars and taxis, are allowed to take clients at the same time, it will result in chaos, since they follow two different sets of rules, Cheng said.
"If passengers are rushing to ride-hailing services, a large space is required," he said.
Some private drivers were not concerned about the prohibition.
"I don't care about getting passengers at the airport or railway station. Personally, I prefer to avoid those places anyway," said Hong Jun, an Uber driver in Beijing. "It was easy to be caught by authorities at stations before we were legalized. One of my friends was fined 10,000 yuan ($1,500)."
But there were other problems as well:
"I was trying to get a passenger at the Beijing South Railway Station last week, and I spent about half an hour trying to find him in the parking lot," he said. "In the pickup area under the roof, GPS navigation didn't work. It was really a bad experience. I have tried not to be close to the railway station ever since."
The draft is out for public comment until the end of this month. It is expected to take effect on Nov 1.
The State Council legitimized the car-hailing services last Thursday through a new regulation.
The top two ride-hailing companies in China, Didi Chuxing and its rival Uber China, announced a merger on Monday.