Nine sets of giant panda twins have been born in Sichuan province so far this year, boosting confidence in the survival of the endangered species.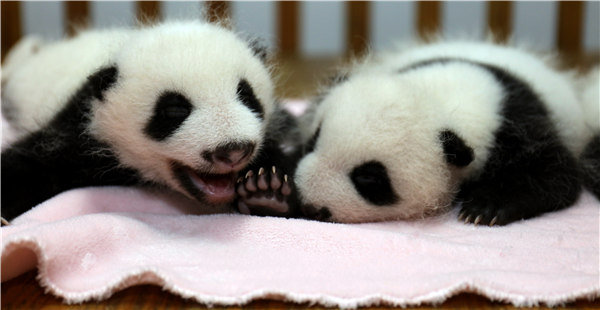 Newborn pandas play at a breeding center in Chengdu. SHE YI / FOR CHINA DAILY
Results of the fourth panda census, released last year by the State Forestry Administration, showed there were only 1,864 wild pandas and 375 captive ones worldwide at the end of 2013.
Pandas survive solely in six mountain ranges in China, five of which are in Sichuan.
On June 20, a panda at the Chengdu Research Base of Giant Panda Breeding in the province gave birth to two female cubs, the first newborn panda twins in the world this year.
"After they were born, another six pairs of cubs were born (at the base), with the last pair born on July 26," base researcher Wu Kongju said.
On July 30, two cubs were born at the China Conservation and Research Center for the Giant Panda in Wenchuan county, Sichuan. The next day, another pair of cubs were born in its base in Ya'an, Sichuan.
Deputy center chief Zhang Guiquan said, "Pandas mate in spring and give birth in summer. As our center's bases are in mountains where the temperature is lower, our pandas mate later than those in Chengdu.
"These four cubs were born after their mothers mated naturally," he said.
It used to be difficult for captive pandas to mate, but this year's births show that researchers have solved such problems.
The researchers initially did not know the pandas' habits. Thinking that they preferred to live a solitary existence, they kept each panda isolated in a tiny den and fed the animals only bamboo.
The pandas became depressed and had difficulty in mating.
During studies that were started in 1992, the researchers placed pandas into dens occupied by the opposite sex so that they could get to know each other through smell.
Wild pandas search for the best bamboo that receives adequate sunshine and provides the best nutrition. Researchers cannot choose bamboo for captive pandas, but have created a biscuit rich in trace elements and vitamins.
Wild pandas are active for many hours each day. The researchers put the biscuits where captive pandas could not find them easily, getting the animals to move around.
"To make them play, we froze fruit before giving it to the captive pandas. They had to play with the fruit until it thawed if they wanted to eat," said Zhang Hemin, chief of the China Conservation and Research Center for the Giant Panda.