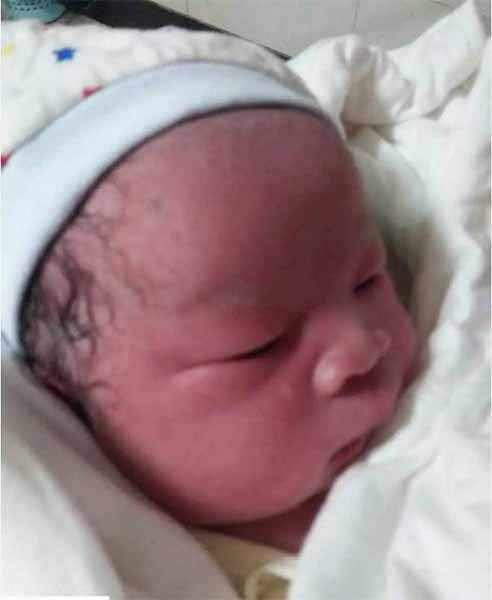 Liu Yun'ai delivered a baby on Aug 1. [Photo from Sina Weibo]
The mother of a firefighter who was killed in the explosions in Tianjin last year gave birth to a boy on August 1, reported Beijing Times.
Liu Yun'ai, 43, decided to have baby by test tube technology as the pain of losing her son, Cai Jiayuan, was too much.
The death of Cai devastated the family as his mother struggled to come to terms with his death. His mother still believes he is out on duty when she talks about him.
Liu gave birth to a four kilogram baby on Monday morning after a C-section.
Liu's husband, Cai Laiyuan, began crying when he heard the good news and said: "My son, you now have a brother!"
Cai Laiyuan said Liu had fever and was physically exhausted after the delivery. "She can't sit up. She lies on the bed all the time," he said.
They pushed the delivery date from August 9 to August 1, the Army's Day, the anniversary of the founding of PLA in memory of their son, who died as a soldier.
Back to 2014 when their son started working as a firefighter, Liu had planned that her son would serve for some years and start small business back home, get married, and have his own children.
Tianjin's blasts in 2015 broke her dream. Her son never came back from the rescue site.
Liu's husband comforted her by saying "Our son wishes us to keep living well" as Liu wanted to end her life.
They tried the tube test technology though the success rate at Liu's age is only 5 percent.
Fortunately they conceived after first try.
Liu suffered lot of problems such as back pain and soreness after she became pregnant. She received fluid infusion for four consecutive days to prevent miscarriage. She couldn't walk and kept lying on the bed for first couple of months to protect the baby.
Cai Jiayuan was an obedient son. Last August, he called his father on his birthday and presented him a pair of shoes.
Cai Jiayuan's ashes were stored in Tianjin with other firefighters who died in the rescue.
This June, Cai's father went to Tianjin to visit his ashes. "It's not a big space and we couldn't burn some offerings to send our love to him," Liu said.
So Liu and Cai decided to bring back their son's ashes to be buried in the hometown.
Cai Laiyuan plans to build a memorial to his son.
The newborn has been named Cai Jiacheng.