After official visit, he will propose plan for development at the 11th ASEM Summit
Premier Li Keqiang's first foreign trip of the year will land him in Mongolia on Wednesday, where he is expected to add new impetus to Sino-Mongolia relations and unveil plans to ramp up Asia-Europe cooperation.
The first visit to China's northern neighbor by a premier in six years coincides with the recent formation of a new government in Mongolia, lending the Chinese leader a fresh opportunity to refine the relationship for years to come, diplomats and analysts said.
Li is scheduled to meet Jargaltulga Erdenebat, 42, who was appointed as Mongolia's new prime minister last Friday.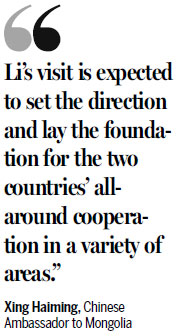 "Li's visit is expected to set the direction and lay the foundation for the two countries' all-around cooperation in a variety of areas," Xinhua News Agency quoted Chinese Ambassador to Mongolia Xing Haiming as saying on Tuesday.
Li sent a message earlier to Mongolia's new prime minister saying that the close friendly neighbors are witnessing the sustainable development of their comprehensive strategic partnership and that China is willing to further promote bilateral ties.
The two are expected to exchange views on dovetailing the two countries' economic corridor initiatives - China's Belt and Road Initiative and Mongolia's Steppe Road infrastructure construction program-according to Assistant Minister of Foreign Affairs Kong Xuanyou.
A number of cooperative agreements will be signed during the visit, covering trade, energy, infrastructure construction, finance and climate change, Kong said at a news briefing on Monday.
Ding Yifan, an economist at the Development Research Center of the State Council, said China has advantages in infrastructure construction that could provide major support for Mongolia's economy, which has been beleaguered by a slow growth rate.
China has been Mongolia's biggest trading partner and main source of investment for years, but there has been sluggish development of large-scale projects in the country, according to some industry insiders.
"We expect the premier's visit to help bring some breakthroughs in the infrastructure construction sector," Ding said.
After a day and a half official visit, Li will attend the summit of the 11th ASEM Summit in the Mongolian capital, Ulaanbaatar, on Friday, a gathering of leaders from Asia and Europe. He is scheduled to elaborate on Beijing's proposition for ASEM's future development, Asia-Europe cooperation and major international and regional issues.
During the two-day meeting, the premier is expected to speak with leaders of some ASEM member countries, according to sources in the Ministry of Foreign Affairs.
China is a founding member of the ASEM, which was launched 20 years ago. This would be the second time Li has attended the biennial meeting.
With Asia-Europe connectivity as the theme of the summit, Cui Hongjian, director of the Department for European Studies of the China Institute of International Studies, said he expected the meeting would produce a working group to steer the work of connectivity between Asia and Europe.
This means members will make connectivity a policy priority and translate it into concrete cooperative projects, he said.
It is also expected the summit will help reinstate regular meetings of economic ministers from the two continents, which were suspended in 2005, Cui said.
"ASEM has since lacked an effective dialogue platform, and it has been difficult for both sides to communicate and align their economic policies and development strategies," he said.