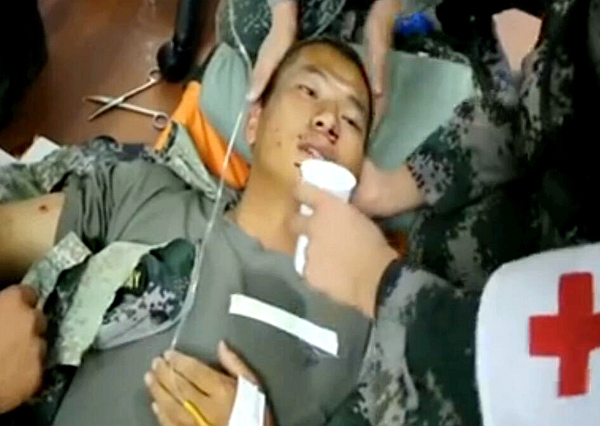 A Chinese UN peacekeeper receives treatment after being injured when his vehicle was hit by mortar fire on Sunday in Juba, South Sudan, in this screen shot from CCTV.
China has strongly condemned the attack in South Sudan's capital on Sunday that killed two Chinese peacekeepers and wounded five others, and it called on rival factions in the country to cease fire immediately.
An armored vehicle of the Chinese peacekeeping troops was hit by stray artillery fire in the camp of the headquarters of the United Nations mission in South Sudan at about 6:40 pm local time on Sunday, Foreign Ministry spokesman Lu Kang said on Monday.
Two Chinese soldiers, identified as Li Lei and Yang Shupeng, were killed and five others were injured, China Central Television reported.
This is the second deadly incident recently involving Chinese peacekeepers. On June 1, a terror attack in Mali killed a Chinese peacekeeper and injured four others.
China is "deeply shocked" by and "strongly condemns" the attack in South Sudan, Foreign Ministry spokeman Lu said.
The Chinese embassy in South Sudan was doing its best to coordinate the rescue of injured peacekeepers, and China has asked the South Sudan government to thoroughly investigate the incident and severely punish those responsible, said Lu.
Lu said China's Foreign Ministry had an emergency meeting with South Sudan's ambassador to China, and the Chinese embassy in South Sudan met with officials of the South Sudan government.
They asked the South Sudan government to take measures to protect the security and property of Chinese in the country, Lu said.
Armed conflicts between the South Sudan president's forces and its vice-president's forces resumed on Sunday in Juba, the country's capital, where the UN mission in South Sudan has its headquarters.
The fighting erupted on Thursday and broke out again on Friday, Reuters reported.
"China is deeply concerned that large-scale armed conflicts have broken out in South Sudan and its peace process is facing setbacks," Lu said. He added that China is calling for the rival factions to immediately cease fire, stop the violence and take effective measures to implement the peace deal.
China will consider measures, including evacuation operations, to protect Chinese citizens who are in South Sudan, he said.
The Foreign Ministry has asked the Chinese embassy in South Sudan to initiate an emergency response, and it has helped Chinese companies and Chinese people in South Sudan enhance their security, Lu added.
The Foreign Ministry also has issued an alert for Chinese not to go to South Sudan, and it said those already there should be very cautious, he said.
He Wenping, a researcher at the Institute of West-Asian and African Studies of the Chinese Academy of Social Sciences, said, "The deeper China takes part in the UN peacekeeping, the larger security risks there will be for Chinese peacekeeping troops."
She added that the international community, including African countries, has been calling for China to get more involved in peacekeeping in Africa.