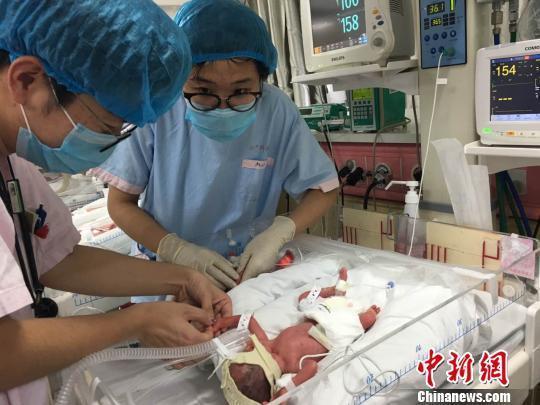 A quadruplet is under intensive care in Shanghai. [Photo/chinanews.com]
The chances of having natural quadruplets are about one in 800,000. The chances of having a set of identical quadruplets are one in 11 million to 15 million, according to abcnews.go.com.
On July 7, four babies beat the odds. The identical baby girls were delivered shortly after 5 pm Thursday in the Obstetrics and Gynecology Hospital of Fudan University (Shanghai Red House Ob & Gyn Hospital) in Shanghai, Shanghai Morning Post reported.
The girls were delivered by Caesarean section after 31 weeks. All are in good health, weighing 1,120g, 1,100g, 950g and 780g respectively.
"Their conditions are better than expected," said obstetrician Shen Jie. "Although their weight is not enough, their maturity is good. Only one child breathes with ventilator when being transported."
The girls were conceived without the help of fertility drugs; one egg split three times to produce four babies.
The girls were transferred to a children's hospital Thursday evening and are under intensive care.
Already having a son and a daughter, the 29-year-old mother is worried about the economic burden that comes with raising six children.
The hospital has seen births of quadruplets in 2004 and 2007.