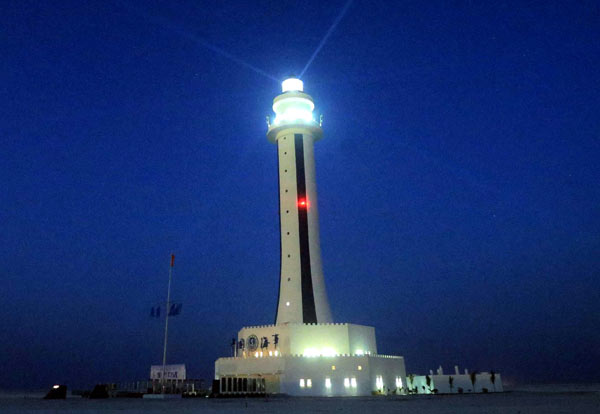 The lighthouse on Zhubi Reef of Nansha Islands in the South China Sea is in use on April 5, 2016. [Photo/Xinhua]
China will start operation of its fifth lighthouse in the South China Sea soon, it was announced on Sunday.
Xu Ruqing, head of China's Maritime Safety Administration, said construction of the lighthouse on Meiji Reef is almost complete.
China started to build lighthouses in the South China Sea in May last year, with four now in use on Huayang, Chigua, Zhubi and Yongshu reefs. The most recent project went into operation on Yongshu Reef on June 25.
Speaking in Ningbo, Zhe- jiang province, at an event to mark China Maritime Day, Xu said all five lighthouses are 50 to 55 meters tall and are equipped with the Automatic Identification System, a tool used around the world for marine communication.
The system allows vessels in surrounding waters to receive up-to-date information and send messages to the lighthouses to ask for assistance, he said.
Xu said construction of the lighthouses reflects China's dedication to its responsibility of boosting navigational safety in the South China Sea, a critical maritime and trade corridor linking the Pacific and Indian oceans.
"The five lighthouses will work like the other 2,000 or so lighthouses in China's coastal regions, providing nonstop navigational services for maritime and rescue activities," he said.
Zheng Heping, another official with the administration, added that China will improve the construction of navigational facilities in the sea to improve its capacity for maritime rescue and environmental protection.
The administration will focus on placing beacons at key points of the main international channel in the South China Sea, double-checking data on water depth and meeting the navigational demands of ships, he said.
Li Wen, a beacon expert with more than 60 years' experience, said China has had to innovate to find ways to build lighthouses in areas of the sea that are usually too shallow for such structures.
China is fulfilling its responsibilities to ensure safety in the international navigation channel by setting up the lighthouses in the South China Sea, he said, adding that the international community will benefit from the facilities.
Contact the writers at anbaijie@chinadaily.com.cn