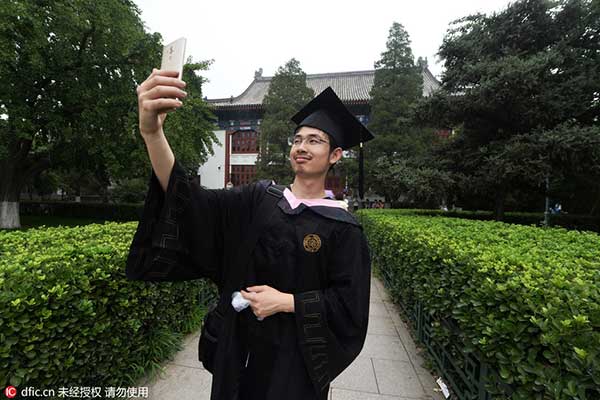 An Yongrui poses for a graduation photo. [Photo/IC]
The graduation photo of An Yongrui, a paleobiology major at Peking University, has become an internet sensation after he recently posted it online.
Unlike other college graduates, An Yongrui posed for his graduation photo alone,as he is the only paleobiology graduate this year at the prestigious university's Yuanpei School..
An Yonghui is the "sixth generation" of alumni carrying the legacy of paleobiology, since the major was introduced in 2008.
Before him, there were a total of five alumni who majored in paleobiology - in each previous year there was only one graduate, as few college students choose it as a major.
Paleobiology is a science discipline that combines biology and geology to study the history of life on Earth through fossils. According to a previous report, the school may be the only one in the country to enroll a single undergraduate student annually for a course of study - not from lack of trying but because few are interested in paleontology.
The highly specialized field was under the limelight in 2014 after that year's paleobiology graduate, Xue Yifan, posted a photo of only herself standing in front of a building in the campus, captioned "Paleontology Class 2014, Peking University". The photo soon circulated online and triggered a flurry of discussion.
Xue has now completed her master's program in computational biology at Carnegie Mellon University in Pennsylvania and is looking forward to working on her PhD at the University of Pittsburgh.
For An Yonghui, the reason he chose the major is almost the same as Xue Yifan's - his great interest in paleobiology.