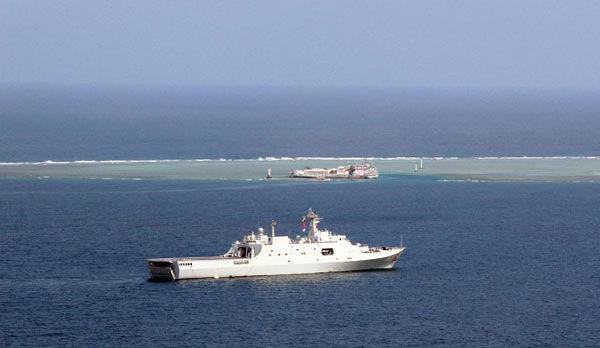 A formation of the Nanhai Fleet of China's Navy on Saturday finished a three-day patrol of the Nansha islands in the South China Sea. [Photo/Xinhua]
Actions by Philippines and others after arbitration ruling to set tone, sources say
After the ruling in the South China Sea arbitration case is unveiled next week, China's response will "fully depend" on actions taken by the Philippines and other countries, sources told China Daily.
The Arbitral Tribunal in The Hague, established at Manila's unilateral request despite China's objection, will announce its ruling on July 12. Washington, a major ally of Manila, has publicly pressed Beijing to accept the ruling.
Speculation on China's possible reactions to the ruling have been fueled partly by the fact that the case involves sovereignty and maritime delimitation.
Whether China's response will involve words or concrete measures will "fully depend on what kind of actions the Philippines and other countries will take based on the arbitration results", sources close to the matter said on condition of anonymity.
"If China then decides to take countermeasures, its counteracting paces and paradigms will fully conform to its own agenda and will not be framed by such actions (by parties including Manila)," one of the sources said.
Another source said "there will be no incident at all if all related parties put aside the arbitration results".
Some speculate that the PLA Navy drill in the South China Sea from Tuesday to July 11 is China's warning against the ruling. The Associated Press noted that the designated area for the drills covers China's Xisha Islands.
In response, the Ministry of National Defense said on Monday that the drill is "a regular exercise and was arranged in accordance with the annual plan".
There also has been speculation that after the ruling is announced, China will establish an air defense identification zone in the South China Sea or send troops to its Huangyan Island there.
"So far, no Chinese official has made such announcement," one of the sources said, adding that "China has never taken a lead in provoking for an accident or stirring up regional tension".
Meanwhile, the sources referred to major sovereignty-related incidents since 2010, including the Diaoyu Islands crisis prompted by Japan in 2012 and the Huangyan Island standoff brought by the Philippines earlier in the same year.
"But if there are more such provocations, China will not shy away from them," one of the sources said.
Jin Canrong, a professor of international relations at Renmin University of China, said that the wisest approach for the new Philippine Cabinet and the United States would be to embark on "a cooling treatment" by putting aside the ruling and refraining from hyping it.
Zhang Junshe, a senior researcher at the PLA Naval Military Studies Research Institute, said some people in the US prefer to contain China by enforcing the alignment between the US and its allies.
"The US has not fully respected China's core interests and major concerns ... and the recent freedom of navigation actions by the US military in the South China Sea have worsened its mutual trust with China's military," Zhang said.