Editor's note: As torrential rains flooded provinces across China over recent days, some heartwarming stories emerged and gave us confidence in fighting the extreme weather.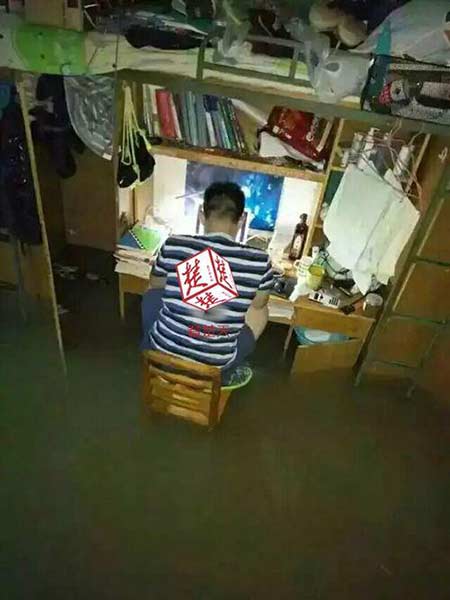 The sophomore student squats on a chair studying when there's water logging. [Photo from web]
Student keeps studying until flood waters submerge his desk
A sophomore of Wuhan University of Technology insisted on studying in his dorm even as the flood waters rose due to heavy rain in the region, reported Chutian Metropolis Daily on Wednesday.
The photo of him sitting on a chair half submerged by water, studying hard, has spread online. Many netizens have praised and expressed respect for the sophomore for his dedication.
According to his roommates, the flooding started in the morning when the student, surnamed Zhou, got up and began reviewing his materials for the final exam the next day.
The rain kept pouring down. When the water was about to flood the chair, Zhou changed his position from sitting to squatting on the chair and kept studying.
He moved to the second floor until the water was about to submerge the desk.
Zhou's roommate said the course Zhou was enrolled in was quite difficult. He studies very hard and he's one of the top students in the class.
The flood receded in the afternoon.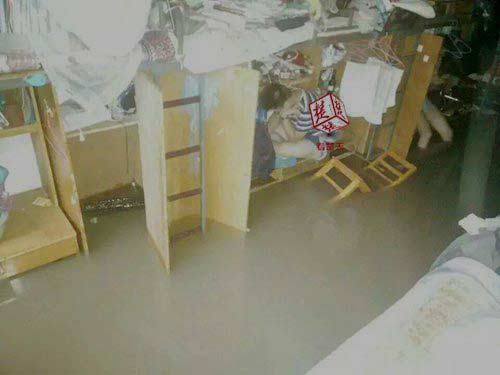 The student sits on the desk to avoid the water logging. [Photo from web]