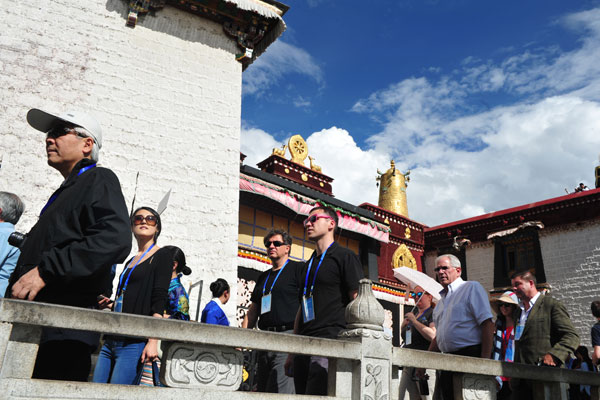 Overseas experts and scholars attending the 2016 Forum on the Development of Tibet visit Jokhang Temple at Lhasa, the capital city of the Tibet autonomous region, on Monday. [Photo by Tentsen Shiden/Tibet Daily]
If there's one word that could sum up the first day of the ongoing Tibet development forum, it would be infrastructure.
A region that had no paved roads in 1950 now has gleaming highways, a rail network and a well-connected airport.
"The central government has provided 600 billion yuan ($90 billion), or 90 percent of fiscal spending, in the form of subsidy to the Tibet autonomous region," said Liu Qibao, publicity chief of the Communist Party of China, at the forum's opening in Lhasa on Thursday.
Leonard van der Kuijp, a Harvard University professor and Tibetologist, said to China Daily website that when he first came to Lhasa in 1982, it took him more than six hours to reach the city from the airport, a distance of 70 kilometers. Today, it takes just an hour.
He wasn't alone in praising the achievements the region has made in such a short time. Many speakers at the forum expressed their admiration.
Albert Ettinger, a scholar from Luxembourg who is on his first visit to Tibet, said to China Daily website that although he had heard a lot about the development, he was surprised to see the progress.
Van der Kuijp said President Xi Jinping's plan under the Belt and Road Initiative to increase connectivity with neighboring countries, such as Nepal and India, will boost not only Tibet's economy, but also of these nations.
The region has already launched massive programs to take advantage of the opportunities. By 2050, it plans to build four rail lines going out of Lhasa. The construction of Sichuan-Tibet line and Lhasa to Nyingchi route is already under way.
But it is not just trains Tibet is focusing on. It aims to have more than 100,000km of highways by 2020.
The guests at the forum, which ends Friday, said they were confident that Tibet will overcome the challenges and continue to maintain balance between sound environment and development.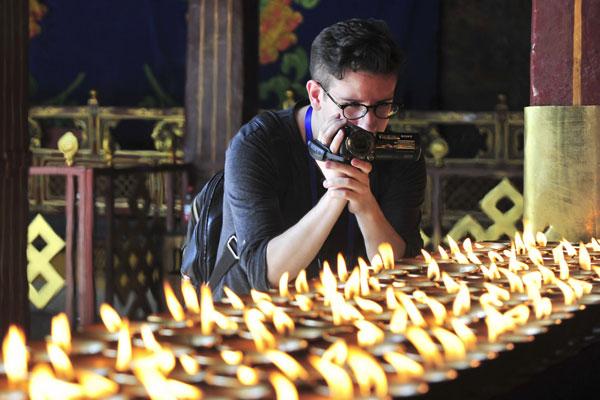 An overseas journalist shoots a video at Jokhang Temple, Lhasa, on Monday. [Photo by Tentsen Shiden/Tibet Daily]