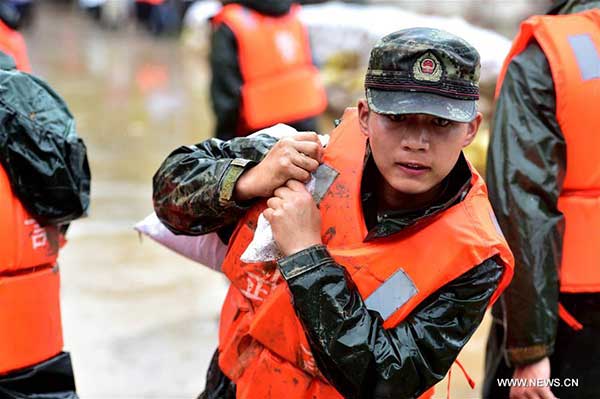 A soldier carries a sandbag to reinforce the Dadao dyke of Baidang Lake in Tanggou Township of Zongyang county, East China's Anhui province, July 6, 2016. Over 260 soldiers were dispatched to reinforce the dyke.[Photo/Xinhua]
BEIJING - The People's Liberation Army (PLA) and armed police will send more troops to support flood control and disaster relief on the direct orders of Chinese President Xi Jinping.

While praising the role of the military in recent disaster relief, Xi, also chairman of the Central Military Commission (CMC), urged the CMC to immediately send troops to the affected areas.

The Ministry of Civil Affairs said on Tuesday that five days of heavy rain along the Yangtze River and its tributaries had left 128 people dead and 42 others unaccounted for.

The rain has led to the collapse of 41,000 houses and forced the evacuation of more than 1.34 million people. Nearly 600,000 people are in urgent need of basic living assistance.

Following Xi's order, the PLA Rocket Force Command College immediately dispatched a rescue team with 183 servicemen and 16 pieces of rescue equipment.

After hours of work in torrential rain, the rescue team prevented a dike breaching in Daokou Lake, Qingshan District of Wuhan City, capital of central China's Hubei Province.

Armed police in Anhui, Hubei, Jiangsu, Jiangxi and other areas also took part in the work.