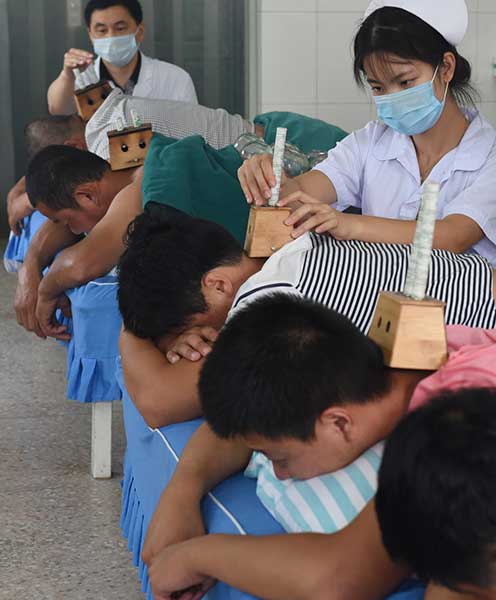 Patients receive treatment at a Traditional Chinese Medicine hospital in Dongguang county, Hebei province, in June. Fu Xinchun / For China Daily
China's top pricing regulator launched a new round of drug pricing and healthcare financing reform on Wednesday in the latest attempt to improve the nation's public healthcare system.
The pricing reform is expected by the end of 2020, by which time financing of all public hospitals will mainly depend on healthcare services and government compensation, rather than markups of drug prices, according to a guideline issued by the National Development and Reform Commission.
"The 15 percent markup that hospitals add on drug prices will no longer be a way to finance public hospitals," said Zhu Dezheng, head of the commission's drug pricing division.
Zhu said reduced income from the markups will be balanced by raising prices for basic healthcare services, such as nursing care.
A total of 200 pilot cities will cancel the drug price markups by the end of this year, according to the National Health and Family Planning Commission.
"Markups on drug pricing used to be a reasonable track for hospitals to generate income in the past because of low public funding, but it has become a skewed incentive that increases the cost for patients. Hospitals tend to prescribe expensive drugs," said Zhu.
Some hospitals receive more than 40 percent of their income from drug price markups, he said.
"The zero markup will provide a positive incentive for hospitals to improve healthcare services and upgrade treatment technologies," he said.
Hospitals will have more freedom to adjust the prices of healthcare services in the future, as the commission pledged to gradually narrow the scope of government-mandated pricing.
While addressing the impact of the reform on patients, Zhang Ziling, an official at the Human Resources and Social Security Department in Jiangsu province, said patients who rely mainly on prescriptions will benefit more from the pricing reform than those who require services such as surgery.
"The overall level of medical expenses levied on patients is not expected to increase," said Zhang.
The nation has been pressing ahead with healthcare reform, and the pricing scheme for healthcare services and drugs are among the key tasks, Premier Li Keqiang stressed during a State Council meeting earlier this year.