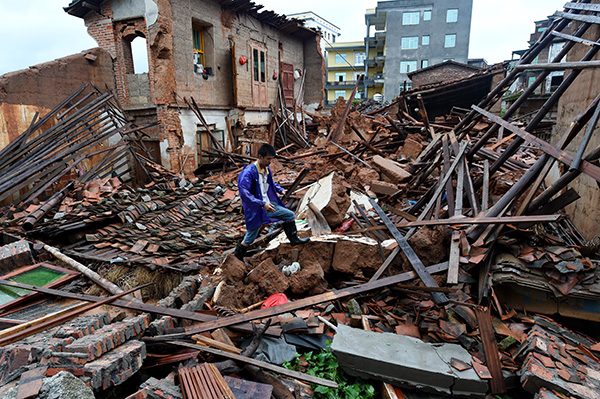 A resident assesses his losses at his collapsed home in Putian, Fujian province, after typhoon Nepartak made landfall on Saturday. ZHANG GUOJUN/XINHUA
FUZHOU - Six people were killed and eight others remain missing after Typhoon Nepartak made landfall and swept through east China's Fujian and Jiangxi provinces, authorities said Sunday.
As of 5 pm, 203,000 residents in ten cities had been temporarily relocated as the typhoon destroyed close to 1,900 houses, the Ministry of Civil Affairs said on late Sunday. A total of 449,000 people were affected.
Nearly 15,800 hectares of crops were damaged by the typhoon, of which 1,600 hectares were totally destroyed.
Direct economic losses were estimated at 860 million yuan (about 128.7 million U.S. dollars).
Earlier reports said Nepartak made first landfall early on Friday in eastern Taiwan, packing winds of up to 190 km per hour, gusting up to 234 km per hour.
It landed in Fujian province on Saturday afternoon and faded into a tropical depression early on Sunday.
But meteorological authorities say rainfalls are forecast to continue in Fujian and in provinces including Jiangxi and Zhejiang, bringing more risks to the already-weather battered area.
Related: Typhoons born later often grow up stronger
The first typhoon of 2016, a monster named Nepartak, made its second landfall in Fujian on Saturday, with more-and stronger-typhoons expected to affect the country's coastal regions due to the La Nina phenomenon, the national meteorological authority said.
Super typhoon Nepartak landed in Taiwan on Friday, bringing torrential rains and heavy winds. As of Sunday, at least three people have died and 311 were reported injured.
The storm weakened during its northward movement before making a second landfall in Fujian province on Saturday. As of Sunday, two people had died and 17 were missing in Fujian, according to provincial flood control authorities.
Nearly 440,000 people in nine cities, including Fuzhou, the provincial capital, had been relocated, it said.
It's the first typhoon to form in the northwestern Pacific and South China Sea this year. It gathered on June 3, later than all but one of the typhoons recorded since 1949. The only later one formed on June 9, 1998.
"On average, 4.1 typhoons are formed in the region from January to June, and 1.7 typhoons on average in June," said Zhang Zuqiang, spokesman for the China Meteorological Administration.
Rare timing
Only three times since 1949 has the first typhoon formed in July-this year, in 1998 and in 1973.
Records from the administration show that the first typhoon normally forms around March 19. In addition, a delayed onset usually happens in the year following a strong El Nino phenomenon, as it did in 1973, 1995 and 1998, Zhang said.
"But the delayed onset of a typhoon doesn't mean the total number of typhoons affecting China is reduced," said Zhou Bing, chief engineer at the National Climate Center.
Zhou added that during the typhoon season from July to October, the northwestern Pacific and South China Sea are the birthplace of 27 typhoons on average. Of those, fewer than five formed in the first half of the year. Of the seven typhoons that have affected China, only one landed in the first six months.
"The data show that the first six months are not the active period for typhoons. So it's not reasonable to jump to the conclusion that fewer typhoons will occur when there are no typhoons in the first six months," Zhou said, adding that the governments should put more effort into preparing for the coming months, which may see more typhoon activity.
Zhang Zuqiang, the spokesman, added that the strong El Nino ended in May, but its opposite-La Nina-is forecast to dominate in summer and autumn.
"With the lingering influence of El Nino, China may see fewer typhoons during the summer. But because of the coming La Nina, there may be more typhoons in the fall. And they may be stronger than average," Zhang said.
Both the El Nino and La Nina phenomena are related to abnormal ocean currents and temperatures in the central and eastern Pacific, leading to global changes of temperature and rainfall.