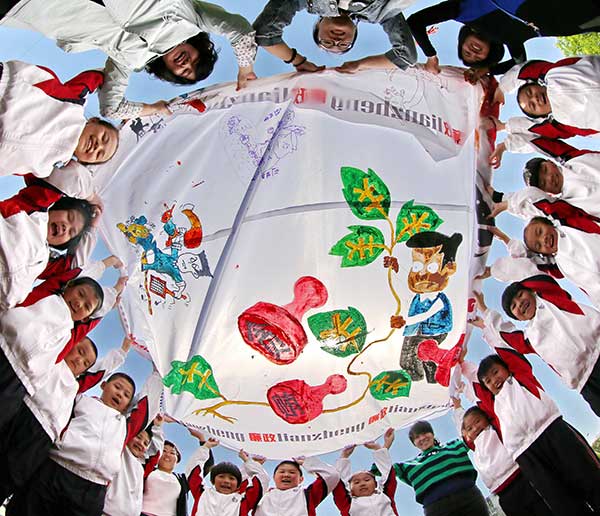 Primary school students and officials in Qinhuangdao, Hebei province, display a painting during an activity in May to promote clean politics and the fight against corruption. Cao Jianxiong / For China Daily
The CPC plans to strengthen efforts to combat graft, in line with Party policy since its foundation.
Editor's note: This is the fifth in a series of articles China Daily will publish in the next few days looking at the structure, history and influence of the Communist Party of China as it celebrates the 95th anniversary of its foundation.
Disciplinary officials and anti-corruption experts have pledged that the fight against corruption will never end and will be intensified to ensure that the Communist Party of China will be free of graft.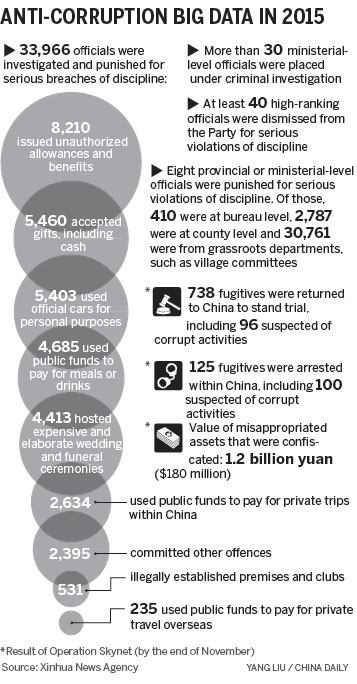 In 2012, President Xi Jinping made the anti-corruption drive a top priority, saying the leadership would fight graft relentlessly and impose strict supervision of Party members. In 2013, Xi said every Party member is subject to Party discipline and supervision, irrespective of whether they are a "tiger" (a high-ranking official) or a "fly" (those at the lower levels).
In June last year, former national security chief Zhou Yongkang became the biggest "tiger" to be caught in the anti-corruption net when he was convicted of graft, abuse of power and disclosing State secrets. He was later sentenced to life imprisonment.
In January, Wang Qishan, head of the Central Commission for Discipline Inspection, the nation's top anti-corruption watchdog, said the fight would be intensified to the point that officials will be so aware of the consequences of corrupt activities that they will refuse to engage in them. In April, Han Jinping, deputy director of the CCDI's Case Supervision and Management Department, said the anti-corruption efforts would continue and the pace would not drop.
Last year, disciplinary departments nationwide investigated 330,000 allegations, finding evidence of corruption in 317,000 of the cases. About 336,000 officials have been subject to internal Party punishments, and 14,000 case files have also been sent to the courts, she said. Since 2012, cases have been filed in 31 provinces, autonomous regions and municipalities, while a number of sectors, including the environment, sports, State-owned enterprises, financial institutes and the legal authorities have also seen a rise in the number of cases of corruption.
"Some people said the fight would be put on hold after a few 'tigers' fell from grace, but that's absolutely incorrect," Han said. "The fight is ongoing, and a number of provincial-level officials have been investigated since the start of the year." She added that corruption at the grassroots will be one of the main points of focus because "the closer the graft comes to the public, the more damage it will cause".
An ongoing battle
Although many people believe the Party's anti-corruption drive started at the 18th National Congress in 2012, when the central leadership announced strong measures to fight graft, it really started when the Party was founded in 1921. During the Party's 90th anniversary in 2011, He Zengke, an anti-corruption expert and senior researcher at the Central Compilation and Translation Bureau, said the CPC has always been vigilant. The strict governance of members and strict penalties for those who breach discipline or break the law have been central to Party management since its foundation, he said.
In a 2011 interview, Li Chengyan, director of Peking University's Research Center for the Construction of Clean Government, said anti-graft efforts would be strengthened in line with the Party's history. "I believe that a complete, scientific and efficient anti-corruption system, including a range of punishments, education and supervision, is the key for the fight," Li said.
An exhibition at the Central Party School shows that the first anti-corruption edict was issued in 1926.
Under an anti-corruption document signed by Mao Zedong in 1933, officials found guilty of making 500 yuan (equal to $75 now, but a huge sum in the 1930s) or more through graft would face the death penalty.
Xie Busheng was the first to be sentenced to death after he was found guilty of illegally selling publicly owned goods and murdering an army doctor. Mao highlighted an anti-corruption drive at the time, saying that no one should attempt to interfere with the party's fight against graft. "If we fail to clean up corruption, we will lose authority and public support," he said.
In 1952, two officials in Tianjin, Liu Qingshan and Zhang Zishan, were sentenced to death for corrupt activities. Although some Party members pushed for the men to be reprieved and allowed to make amends, Mao insisted that the sentence be carried out because "other officials will take notice and learn from their example".