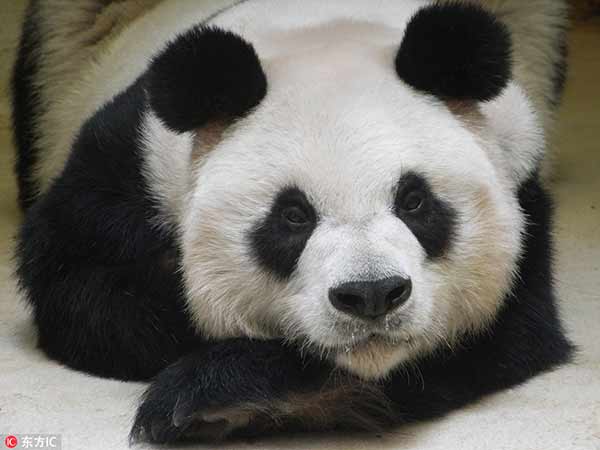 Photo of Jia Jia in 2015. [Photo/IC]
Jia Jia, the longest-living captive panda in the world, had her 38th birthday in Hong Kong Ocean Park on Monday, and is 114 in human years, reported cnr.cn.
As a senior, Jia Jia has a good appetite for seven kilograms of fresh bamboo shoots, bamboo and fruits each day. All the bamboo shoots are pre-ordered and transported from Guangdong on a daily basis.
Her weight is stable at 73 kilograms, which is within the normal range.
But the panda takes drugs for hypertension everyday since she was diagnosed with high blood pressure at 24.
Pandas are more vulnerable to illnesses like tooth problems, joint problems and eye problems as they age.
Besides, her eyesight has degenerated and she was diagnosed with cataracts in 2005, so she can only detect light and her vision is blurry.
The park invested a large sum to build a suitable habitat for the panda, keeping the temperature to a range of 18 to 24 degrees Celsius indoors.
There is good circulation in her enclosure and Jia Jia has her own field of 200 square meters to live in.
The staff changes the surroundings now and then to keep the environment fresh and interesting for the panda. Toys are also designed to entertain her.