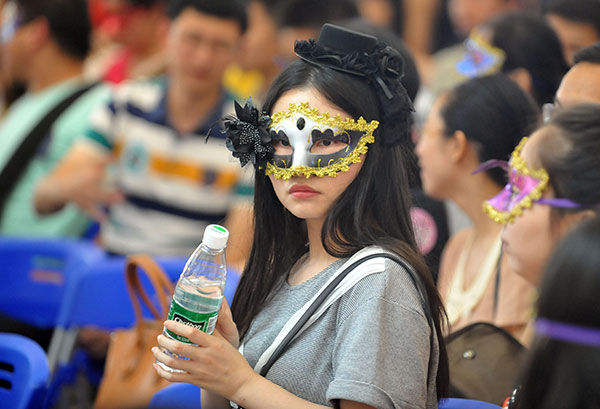 A masked girl participates in a joint dating party in Wuhan, Hubei province, on Saturday, celebrating the upcoming Qixi Festival. MIAO JIAN/CHINA DAILY
With Chinese Valentine's Day, or Qixi Festival, falling during the Olympic Games, young couples can divert their attention from sports to love, at least for the day.
About 32 percent of Chinese males will concentrate on the Qixi Festival, which falls on Tuesday, with 17 percent of females like-minded, according to a report published on Friday by online dating website jiayuan.com.
One-third of the men also said they will use the opportunity to propose marriage.
Guo Shiqi and his girlfriend Yu Wenzhe, both 21 and finance majors, said the Games will not affect how they enjoy the Qixi Festival.
"We will find a restaurant and enjoy dinner like before," Guo said. "Not many young people watch the Olympic Games nowadays. I think I only need to have a look at the news headlines with my phone, that's it."
The survey of 30,000 people, more than three-fifths of whom were born after 1970, found that the Games will get less attention from Chinese youth than older people.
Up to 80 percent of men said they will make dating a priority even if it conflicts with an Olympic event they want to watch, compared with 62 percent of women, the report said.
"There is no need to sit in front of a TV," said Wang Wen, 21, a student from Liaoning province. "I'm a big fan of basketball. But if there is no basketball game that the Chinese team can win, I will give it up and go out with my girlfriend for the Qixi Festival. We can use our phones to watch live broadcasts."
His girlfriend, Chai Lin, 21, said she is also a basketball fan.
"If my boyfriend insists on watching the Games, we can watch together to celebrate our Qixi," Chai said.
Twenty-two-year-old bank clerk Tan Chan, however, expects her Qixi Festival to be just another day.
"Valentine's Day is a working day, and working overtime has more impact than the Olympic Games," Tan said.
According to the survey, however, more than a few people were speculating about their own special half-time shows.
About 43 percent of men said they hope to have sex with their partners between breaks in the Games, though only 17 percent of women were planning to.
Li Jiaxun contributed to this story.