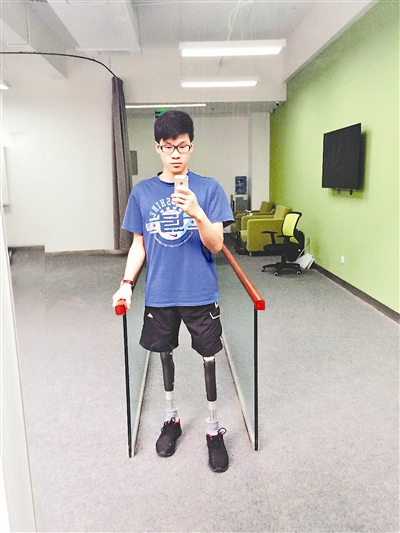 Li Anqiang lost his legs while trying to save his classmate in a deadly earthquake in 2008. [Photo by Chengdu Commercial Daily]
Li Anqiang had his legs amputated while trying to save his classmate during a deadly earthquake eight years ago, but the 24-year-old has never given up his hope for a better future.
When the magnitude 8.0 earthquake struck Sichuan province on May 12, 2008, Li was a student in Beichuan Middle School.
Li was buried under rubble along with one of his classmates. To push the legs of his classmate out of the debris, Li had his own legs buried under a slab for too long they had to be amputated.
More than 1,000 students at the school died in the disaster.
Li Anqiang was enrolled in Sichuan University in 2011. Despite difficulty walking, Li took care of everything on his own.
Li said his roommates would help him at first, but they "gradually became used to it, and let me take care of my own things."
"I can handle my life. My friends see me as a normal person. We play, go to the class and shop together," Li said. In fact, many of Li's schoolmates did not even know he was disabled.
Li was also looking forward to getting a more advanced education. After graduating from Sichuan University, Li made a plan to apply to study in the US.
The biggest obstacle for him was English. "I am from the rural area where English was not given enough attention to," Li said.
To improve his English, Li got up at 6am, learning vocabulary, and practiced speaking and listening in the morning, while reading and writing in the afternoon.
Practice makes perfect. After half a year's intensive learning, Li received offers from Northeastern University and Rutgers University in New Jersey. He chose the Rutgers University where he will pursue a master's degree in public administration.
A huge fan of basketball player Kobe Bryant, Li, in 2009, wrote a letter to his hero through an online sports forum, expressing his admiration. In the letter, Li told Kobe that "I can no longer stand up or run but I can still shoot hoops from my wheelchair. I will not give up, but will keep on playing because you are my idol."
In his reply, the NBA superstar hailed Li as "a strong boy whose attitude toward fate was amazing."
Not only a basketball fan, Li also developed a liking for guitar. He has posted several video clips of his playing on his micro blog.
Speaking of the trauma brought by the disaster, Li said: "The past is gone, and the future is full of chances. Sometimes, you complain about the unfairness in life, but eventually you will be grateful to it".