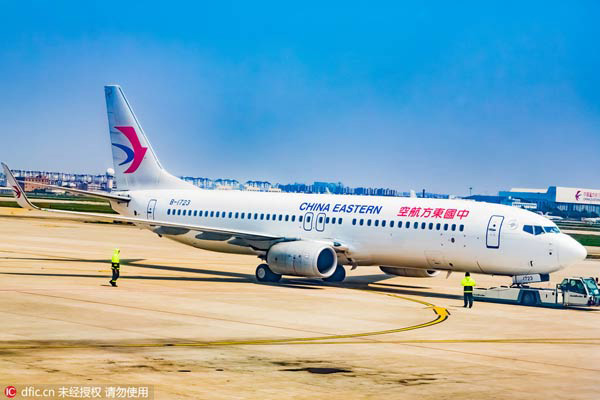 A plane of China Eastern lands at Baiyun International Airport in Guangzhou, capital of South China's Guangdong province, March 25, 2016. [Photo/IC]
Passengers using mobile phones on planes might face 50,000 yuan ($7,515) fine, according to a latest draft amendment to the country's Civil Aviation Law that was published on Monday by the Civil Aviation Administration of China.
The draft amendment has added a new chapter regulating 14 types of behaviors that endanger civil aviation safety and disturb order.
The activities include using mobile phones, smoking, forcibly occupying seats, blocking channels and gates, breaking into airports and planes, beating crew and other workers, fighting, spreading rumors and causing troubles.
When people conduct behavior that does not fall under the Criminal Law but violates the Public Security Administration Punishment Law, they would face a fine up to 50,000 yuan.
The draft amendment has also revised articles to make the aviation companies shoulder more responsibility in ensuring flights safety and passengers' interests. Companies must set up sound management system to prevent and minimize civil aviation accidents.
When flights are delayed, the airlines should inform passengers and provide related services. Aviation companies are encouraged to buy insurance for passengers to secure travelers' interests.
If pilots intentionally break the law, their license will be cancelled, and they would be barred from any commercial flight activities for two years.
The Civil Aviation Administration of China published the draft amendment on its official website on Monday and people can email their opinions until Sept 6 to airlaw@caac.gov.cn, or fax 010-64016870.