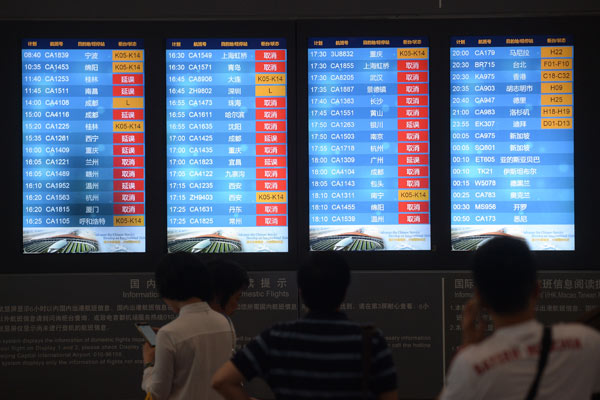 Passengers look at a board showing delayed flights in Beijing Capital International Airport on June 13, 2016. [Photo/VCG]
China's new rules on flight delays aim to tackle the problem by clarifying the responsibilties of stakeholders, reported Beijing News.
The rules issued recently by the Ministry of Transport state that when a flight is delayed or cancelled due to reasons including bad weather, emergency, passengers and air traffic control, the carrier should arrange room and board for passengers with the cost paid by passengers themselves. If a flight is delayed or cancelled due to reasons caused by the carrier, it should pay for it. 
Li Xiaojin, a professor of Civil Aviation University of China, said the new rules better clarify the accountability in a flight delay. It can help carriers be responsible for their own mistakes, rather than paying for all flight delays.
The new rules, which will take effect from Jan 1, 2017, also require carriers to notify the passengers within 30 minutes when a massive flight delay happens.
Also, a flight delay is defined according to the time when the chocks are removed from wheels, or when an airplane is ready to take off.
Li said that the new rules, which are China's first on flight delays, are expected to help ease severe flight delays in the sector.
Nearly one-third of Chinese flights were delayed in 2015, and air traffic control measures were the biggest drag on flights, accounting for 30.7 percent of air delays last year, reports of Civil Aviation Administration of China showed.