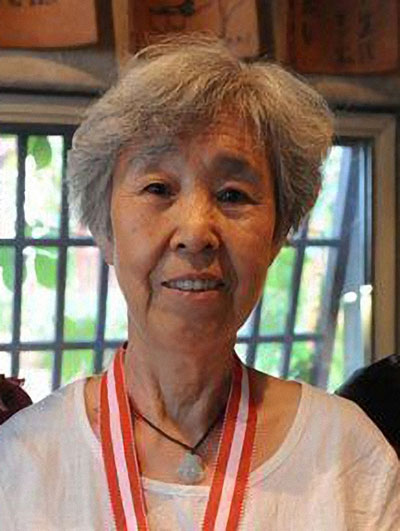 Tian Ying, winner of the 11th Austrian Mahjong Open. [Photo/China Daily]
A 71-year-old retiree from Xi'an, Shaanxi province, has caused quite a stir in China after winning an international mahjong tournament in Europe.
Tian Ying took the top spot in the 11th Austrian Mahjong Open, held in Baden on July 9 and 10. Fellow Xi'an native Cao Lihua, 72, came in third.
The septuagenarians were part of an eight-strong delegation of mahjong competitors from China who battled it out against contestants from Austria, Hungary, Germany, France, Belgium, Russia, Italy, Switzerland and the Netherlands. The team returned to Xi'an this week.
The two-day event saw each contestant compete in seven games, each lasting two hours, with the highest-scoring player crowned the champion.
Tian described the competition as "fierce" and praised the other foreign participants for playing "very well".
All but one of the Chinese players were women, and none was under 67-the oldest being the sole male player, 77-year-old Qin Zheyong.
He attributed Tian's win to her calm, steady style of play, adding that most of the top competitive mahjong players in China are female because they are generally more careful and calculated. In other countries, it's often the other way around, Qin said.
Zhao Baoguo, director of the Shaanxi Competitive Mahjong Amateurs' Association, said some people had asked why the Chinese delegation's members were all from Shaanxi and not another province where mahjong is popular, such as Sichuan.
He said all eight players were members of his association, and some had been studying competitive mahjong for almost three decades.
Zhao said mahjong in other provinces is often played for entertainment and is not up to competition standards.
"It's like how a large number of people ride bicycles, but only a few can take part in competitions," he said.
Tian's victory has garnered additional attention because it comes after the crushing defeat of the Chinese delegation that took part in the fifth Open Mahjong Championship in Strasbourg, France, two years ago.
On that occasion, the highest-ranking Chinese player claimed 30th place, while the team came in 37th overall-a disappointing performance for a game that originated in China.
Jiang Xuanqi, secretary-general of the World Mahjong Organization, said the game dates back more than 3,000 years and players of all nationalities learn about Chinese culture by playing it.