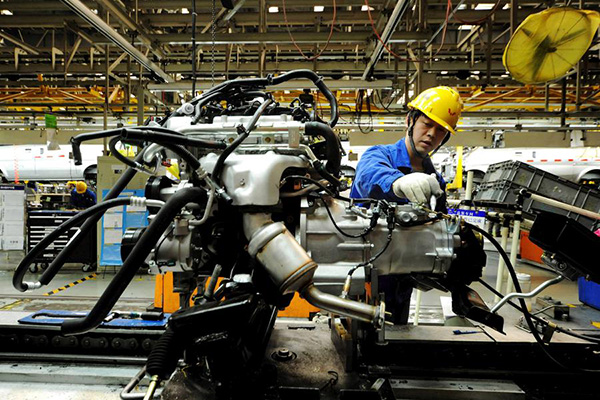 An employee works on an assembly line producing automobiles at a factory in Qingdao, Shandong province, March 1, 2016. [Photo/Agencies]
Private and semi-public businesses are being encouraged to invest in the key projects to be launched during China's 13th Five-Year Plan period (2016-20), and the interests and legitimate rights of investors should be protected, Premier Li Keqiang has said.
"Conditions permitting, we should innovate methods to attract 'social investment' to these projects," Li told a meeting on Monday in Beijing attended by senior officials of some provinces and State Council departments.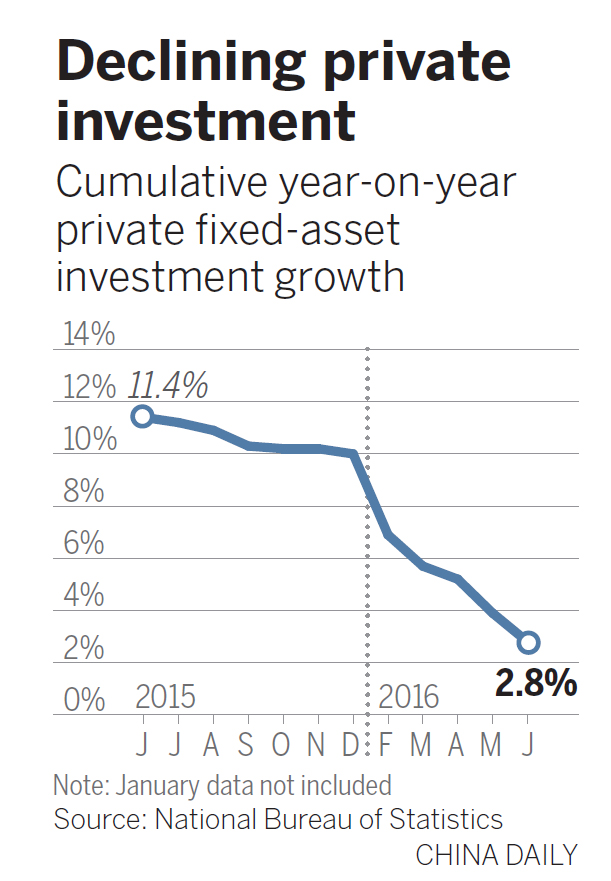 The premier's remarks reflected his solutions to the knotty issue of the slowing growth momentum of investment by private enterprises. Officials have blamed the slowdown on the sluggish world economy, downward domestic pressure and overcapacity in some industries.
Private fixed-asset investment, which accounts for more than 60 percent of the country's total investment, slowed to a record low in the first half of the year, with growth sliding to 2.8 percent from double digits last year.
Li cautioned that a continued slump in private investment growth could spoil the country's efforts to maintain economic growth within the targeted range — 6.5 to 7 percent for the year — and to optimize the economic structure in coming years.
He called for innovation in investment modes and a ramping up of price reforms.
In particular, he said the Public-Private-Partnership financing mode should be promoted to divert more social funds to education, medical care, elderly care and other service sectors, as well as to infrastructure.
"While making use of the government funds, which are limited in amount, we must enhance the guidance of the flow of social funds," he said, adding that efforts must be made to prevent such funds from going to sectors that are beleaguered by overcapacity and are polluting the environment.
Boosting effective investment will have a wide range of influences, including promoting consumption and creating jobs, the premier said.
Li Jinbin, governor of Anhui province in East China, said at the meeting that many private enterprises had intended to invest in strategic new industries and public services that promise stable or high returns. However, Li said, investor access to these sectors remained difficult.
In response, the premier said market entrance barriers of all forms must be removed, discrimination eliminated, and costs cut for private and semi-public companies to invest. He also asked governments to repay their debts to companies.
In addition, stronger financial support should be given to small and micro enterprises.
The premier also said there is enough space for investment in China, given the enormous domestic demands.
Overall fixed-asset investment, a gauge of infrastructure spending, slowed further in the first half to 9 percent, the lowest growth rate in years.
Contact the writers at zhao-huanxin@chinadaily.com.cn