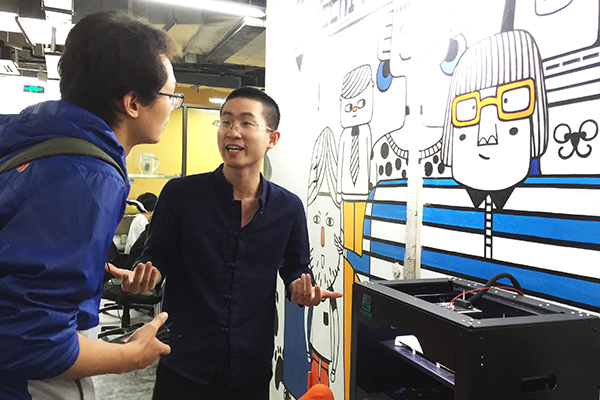 An owner of a startup in Dream Village, Hangzhou, explains his firm's business to a visiting journalist. [Photo/China Daily]
Hangzhou's claim to recent fame may be its status as the headquarters of e-commerce giants Alibaba and JollyChic, but the capital of Zhejiang province is fast developing into a springboard for new-age startups.
Zheng Pan, 45, who co-founded MicroTech Medical (Hangzhou) Co Ltd in 2011, will probably agree. He realized his dream of starting his own medical equipment business in Hangzhou.
"At the Dream Village in Yuhang District of Hangzhou, I received great support from the government, which I had never thought was possible before I had returned to China," said Zheng.
He worked six years in the United States at a Fortune 500 company engaged in medical equipment research and development before returning to China.
Throughout the past five years, MicroTech Medical received about $8 million for research and development.
The Zhejiang native and his 20-member team have developed a semi-disposable tubeless patch insulin pump the size of a match box. The 28-gram pump costs less than half of similar products made by foreign brands, and will be available for diabetics from December.
The pump, the first of its kind to be made in China, can be used by patients to self-inject insulin automatically as per their blood sugar level.
Dream Village has attracted not only local business start-ups but new entrepreneurs from nearby cities in Jiangsu, Anhui and Hubei provinces and incubators from Shanghai, Beijing, Shenzhen and Silicon Valley of the US.
Dream Village offers reduced rents for offices and plants, subsidies towards management fee, startup expertise and shared resources. This helps shorten the time for founding a business, said Xiang Jianbiao, co-founder of Liang Cang Accelerator, one of the 25 incubators now operating in Dream Village.
"The subsidy is extremely important for startups, especially for businesses involving research and development," said Zheng.
Over the past five years, his company received $2 million in sponsorship money from the local government.
"Since the launch of our incubator in May 2015, nearly half of the projects received capital investment for further development to date, with more financing in the pipeline, which should materialize in coming months," said Yuan Xing, CEO of Beehive, another incubator.
Following Beehive's success, Yuan will launch her second incubator in September in Shanghai, which will focus on financial and cultural businesses.
Initiated in August 2014, Dream Village is located at the former barn of the Southern Song Dynasty (1127-1279). The local government is eagerly developing the place into a base for startups.
In just one year, Dream Village has become home to 640 projects and nearly 5,900 startups. Among them are 75 projects that have received more than 1 million yuan each in financing. In all, they received investments of 2.58 billion yuan.
Hangzhou is now home to four types of startups: businesses founded by those with work experience at Alibaba; enterprises founded by Zhejiang University graduates; firms founded by foreign educated graduates; and companies founded by kith and kin of Zhejiang's entrepreneurs.
In a sense, Dream Village could have happened only in Zhejiang. Private enterprises account for as much as 59.2 percent of the province's GDP.