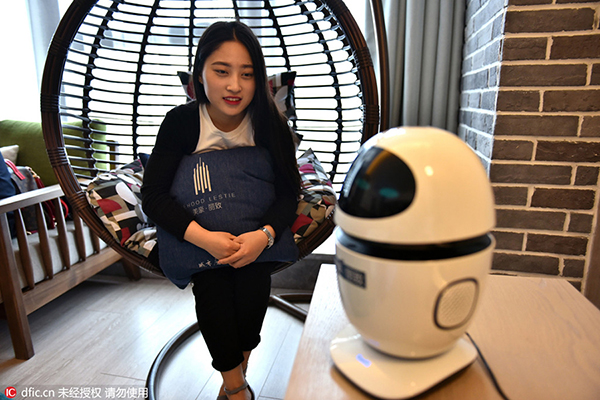 A robot services a hotel in Xi'an, Northwest China's Shaanxi province, May 10, 2016. [Photo/IC]
Startups looking for funding to develop next-generation technology like artificial intelligence and robotics are increasingly likely to find it in China.
Companies working on equipment to deliver parcels to the moon, robots to stock warehouse shelves, and computers capable of acquiring knowledge like a human are among more than 30 startups seeded by Comet Labs since its founding last year.
The venture capital firm, created by Chinese investment fund Legend Star, gave the media an introduction to its work this week. It provided only the briefest of glimpses into its investment portfolio, without disclosing further details on the seed companies, but it was enough to make clear the cutting-edge nature of their technology.
Legend Star is owned by Hong Kong-listed Legend Holdings, which is also the parent company of Chinese PC maker Lenovo. Comet Labs not only provides funding for startups, but also helps find them clients.
Comet Labs Managing Director Saman Farid said the startups it has backed have managed to secure a combined 40 million U.S. dollars in follow-up funding rounds that have also drawn investors including Google Ventures, Andreessen Horowitz and Y Combinator.
"The world has been carried forward by waves of technology, from digitization to the Internet, then mobile Internet and we believe the next wave will be artificial intelligence," said Farid.
Until recently, China had mostly been on the receiving end of venture capital from around the world as many of the country's top Internet firms, from Alibaba and Tencent to Uber competitor Didi and smartphone maker Xiaomi, received backing from overseas.
But the outbound investment made by Chinese firms like Comet Labs could signal a reverse in the flow of capital, as investors in China look out for entrepreneurs tinkering with what could eventually evolve into technology that redefines industries.
Earlier this month, Zhongguancun Development Group, a state-backed investment firm based in Beijing's tech hub Zhongguancun, also set up a fund to raise 10 to 20 million yuan ($1.5 to $3 million) to incubate startups focused on smart manufacturing in Germany.
In June, a group of Chinese investors, including Baidu, CICC Alpha, China Everbright and IDG also participated in the $60 million financing round for US online cross-border payment startup Circle, which uses the block chain technology that many in the financial industry say has the potential to bring sweeping changes to the financial world.
This investment comes at a time when China's vast manufacturing sector is wobbling. Industrial production growth has been slowing consistently, sinking to 6 percent for the first half of 2016, compared with double-digit rates couples of years ago.
Rather than consumer-facing firms, much of China venture capital's outbound investment goes to startups working on technology to enhance businesses' operational efficiency and productivity, as such technology holds the promise of catapulting Chinese manufacturing to the higher end of the industrial value chain.
"A lot of traditional industries like agriculture, healthcare and construction have been little changed by the Internet and digitization, but they could look very different with technology like artificial intelligence and smart machines and these technologies will go beyond borders," Comet Labs' Farid said.