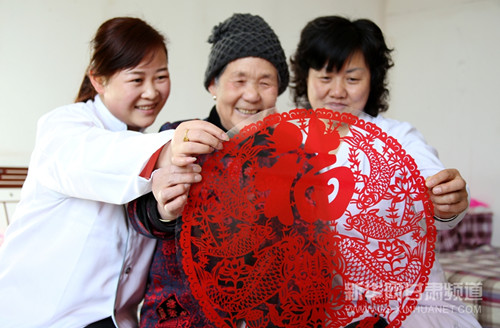 An elderly woman (middle) receives the paper cutting meaning 'blessing' or 'happiness' .Caring for the elderly has been growing into an industry in China. [Photo/Xinhua]
BEIJING - China disclosed its mid-year economic health check, featuring indicators that the economy is generally in good shape and on track for stable economic growth and restructuring.
China's GDP in the second quarter (Q2) was a stable 6.7 percent. Although this is the lowest quarterly rate since the global financial crisis, it is within the government's range for 2016 of between 6.5 and 7 percent.
Infrastructure investment accelerated, lifting equipment manufacturing and boosting industrial production. Retail sales growth quickened on the back of a rebound in demand for consumer items. The economy is heading into the second half (H2) of this year with positive momentum.
The stabilization in growth did not come at the cost of reviving industries bogged down by over capacity, which had been a concern. Despite a pickup in steel output in June, investment growth has continued to slow. Steel investment also fell 4.3 percent in June, down from an increase of 4.5 percent in May. Housing inventory adjustment is in progress, with floor space for sale in June down 21 million square meters from March.
Meanwhile, the new economy is vibrant, new businesses are booming, and new growth momentum is accumulating. The service industry accounted for over 50 percent of GDP while high-tech production in the industrial sector grew 10.2 year on year. In addition, consumption contributed over 70 percent to overall GDP growth in the first six months.
Job data, unemployment rate and nationwide household disposable income per capita all showed that China is well on track to attain its growth target this year.
The further narrowing in PPI deflation and improvement in corporate profits, as well as solid growth momentum in new sectors will likely continue into H2. However, faced with a cooling housing market, weak private investment and external demand, H2 will be trickier to navigate than the previous half.
The world's largest developing economy, while facing continued downward pressure, still has huge potential, sufficient advantages and plenty of space for maneuvering.
China's current government debt ratio is low while the household savings rate is high, with ample policy tools at its disposal, from infrastructure investment to fiscal easing and monetary accommodation.
Most importantly, reforms on all fronts, especially on the supply side, will continue to yield positive effects on growth.
For example, centrally-administered state-owned enterprises (SOEs) reported better financial performances in H1 due to SOE reforms, and the government plans to accelerate M&A to bring their total number within 100 this year.
Meanwhile, the government is taking steps such as tax reduction to help lower the financial cost and investment risk premium for the private sector, and lower the entry barriers for private investment in growing industries.
China might experience some short-term pains during its economic transformation amid downward pressure and global market uncertainties, but the country is capable of keeping its economy on track for stable and sustainable growth.