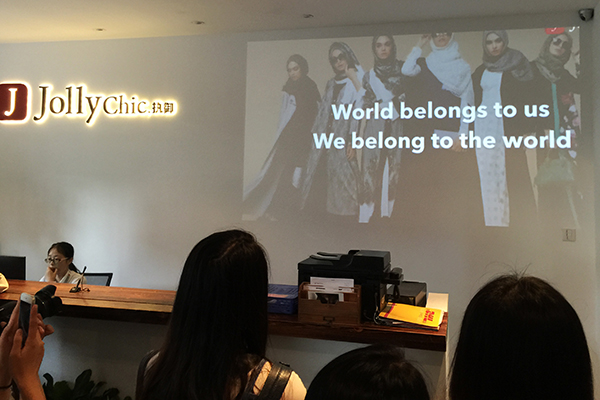 At JollyChic's headquarters in Hangzhou, Zhejiang province, staff review a presentation on the company's 2015 sales and targets in the the Middle East region. [Photo/China Daily]
For consumers in the Middle East, the most widely used online marketplace for cross-border e-commerce is JollyChic. Surprisingly, the rising brand is based in Hangzhou, where Alibaba has its headquarters.
The JollyChic brand is owned by Jolly Information Technology Co Ltd, which was founded in 2012 by Ding Wei and his two partners to serve consumers in Europe, the United States and the Middle East.
"We rely on big data and are able to quickly respond to market demand and prepare for overseas orders," said Ding, executive president of Jolly.
The company has a big data research and development team based in Silicon Valley in the US.
"Big data helps us track each item's consumer feedback, ready-to-pay rates and make simultaneous calculations accordingly," said Ding.
By analyzing big data, Jolly taps the huge market potential in the Middle East, and offers more tailor-made products to the area. About 70 to 80 percent of Jolly's revenue comes from this market," said Ding.
For instance, big data analysis showed that the Middle East consumers shop mostly for clothing, shoes, baby-care items, parenting goods, beauty, household and electronic products.
By catering to such demand, Jolly has emerged as the most influential Chinese mobile app in two years in the Gulf Cooperation Council member-states (Bahrain, Kuwait, Oman, Qatar, Saudi Arabia and the United Arab Emirates).
Through cooperation with a variety of local suppliers, Jolly expanded its revenue quickly from 10 million yuan ($1.51 million) in 2013 to 500 million yuan in 2015.
It helped as many as 1,500 Chinese small- and medium-sized enterprises to find markets abroad and establish their brands in public consciousness, a much better option than being original equipment manufacturers or OEMs.
Revenue of Jolly is projected to reach 2 billion yuan this year.
"Jolly provides an example of how information technology is helping develop great cross-border e-commerce along the Belt and Road Initiative countries," said Zhao Yide, Party chief of Hangzhou.
Jolly's success signifies the coming of age of Chinese enterprises. Made-in-China products are offering better quality than before, thus meeting the global demand for such products, he said.
Jolly's story also suggests cross-border e-commerce is more than buying products from overseas markets through agents or directly online-it is a huge business opportunity for international trading that could benefit talented people, local manufacturers, and firms engaged in logistics, financial payments, international law and big data, said Wu Changhong, an official from China (Hangzhou) Cross-Border E-commerce Comprehensive Pilot Area.
Launched in March 2015, the Area has attracted 1,570 enterprises so far, which accounted for 5.4 percent of Hangzhou's exports in 2015. The figure rose to 11.84 percent in the January-April period this year, said Wang Chong, an Area official.
About 3 percent of the city's GDP is invested in R&D, said Zhao.