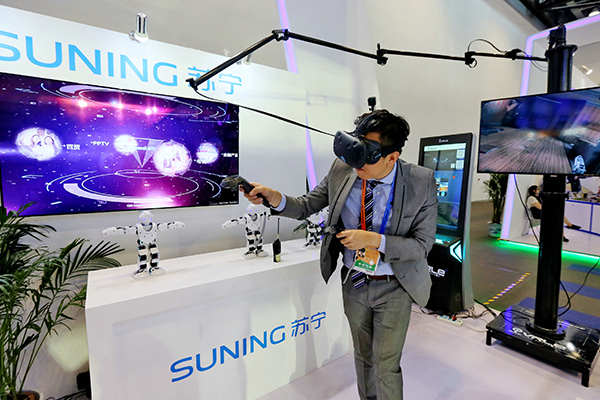 A consumer experiences a product using a virtual reality kit at Suning's stall at a trade expo in Beijing. [Photo/China Daily]
If Hangzhou boasts headquarters of new economy stars Alibaba and JollyChic, Nanjing is home to Suning Commerce Group, the country's third largest retail player and a well-known e-commerce name.
Amid shrinking retail sales, particularly at physical stores countrywide, large retailers such as Suning continued to thrive with long-term plans to cope with the boom in e-commerce.
China's largest home appliance retailer, Suning saw its sales reach 350 billion yuan ($52.2 billion) in 2015. It has diversified into e-commerce, real estate, culture, finance and investments.
Zhang Jindong, chairman of Suning, said technology upgrades since 2009 have helped transform its business and ride out some tough times. "A company should not be afraid of choosing a hard way. What it should be afraid of is losing the right way."
Zhang and his team thought that developing e-commerce was the right way. The group thus launched its online sales platform Suning.com and verticals in 2011.
However, sales on Suning.com were not as good as expected. Customers complained about sloppy after-sales service. Media gave the group some stick. Investors continued to doubt the group's strategy.
But Zhang and his team stuck to their guns. They established one of the country's top logistics systems by cooperating with more than 1,000 companies nationwide. They oversaw application of technologies like cloud computing to the business. Then came the online-to-offline or O2O strategy. Suning's customer service personnel received extensive training to meet the demands of the digital-age consumers.
The second half of 2014 proved a turning point. Sales surged by 52 percent year-on-year in the third quarter of that year. The next quarter saw sales rising by 42 percent year-on-year, taking overall sales for the year to 108.9 billion yuan, yielding a staggering profit growth of 574 percent.
According to the China General Chamber of Commerce, sales at China's top 100 retailers topped 4.13 trillion yuan ($613.6 billion) in 2015, up 22 percent year-on-year.
Much of that came online. Sales at bricks-and-mortar stores actually declined 3 percent year-on-year. But Suning's O2O strategy, combined with a vibrant online presence, helped limit the damage.
"We have overcome many difficulties while upgrading from a traditional bricks-and mortar retailer to an e-commerce giant," Zhang said. "What I want to tell the companies struggling in innovation and transformation is this: you shouldn't be afraid of experiencing difficulties in the process. But you should be afraid of giving up after experiencing them."
Now, Suning's 180,000 staff man its bricks-and-mortar stores and e-commerce channels across 600 cities in China and abroad, and serve 250 million registered online customers and offline consumers.
The group said, 99 percent of the goods purchased on its online platform safely reached the customers so far.