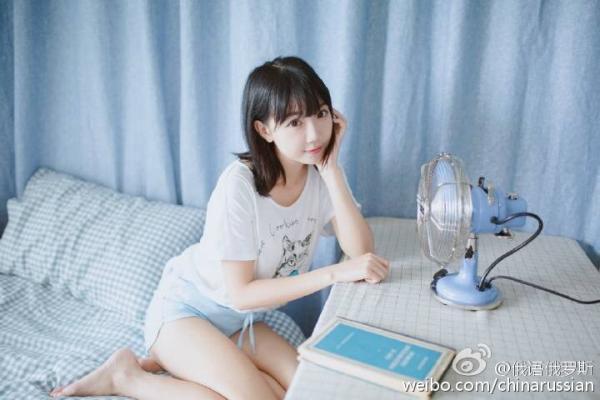 The Chinese woman poses against a baby blue background with the blue manual. [Photo from Sina Weibo]
Some people buy books they don't read to decorate their shelves in order to seem erudite. One Chinese lady did something similar by posing with a foreign language book in a set of posed photographs, but it ended up making her a laughingstock.
In the photos, which have gone viral, a fully-made-up Chinese woman appears to be reading a Russian book with a blue cover that coordinates perfectly with the baby blue background and furnishings around her. The book gives the photos a literary, artistic vibe.
However, people who know Russian cannot help but notice that the book's name is actually "The repair guidebook of excavator type Э-505".
The extremely industrial title is so incongruous in these "literary" photos that it immediately invited comment.
The pictures were popular on Chinese social networks, and then soon went viral in Russia.
People had a lot of fun commenting on the sharp contrast.
Some commenters on Russian online forums said, "You have to be very careful when you choose a book as a prop to have some photos taken".
Another Russian internet user firmly believes "It definitely will come in handy someday."
Someone joked in the comment "She's definitely absorbed in the book as clearly she's read over 40 pages!"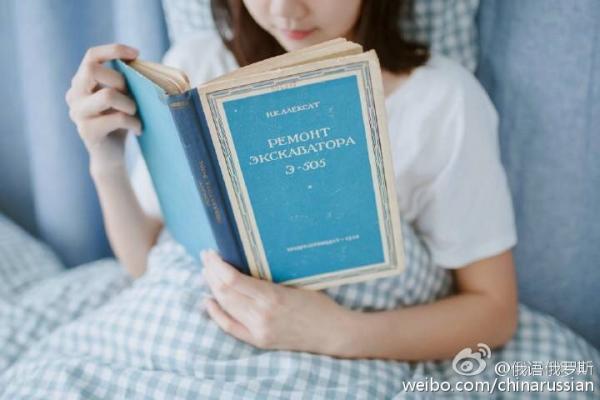 The book's name is in Russian. [Photo from Sina Weibo]