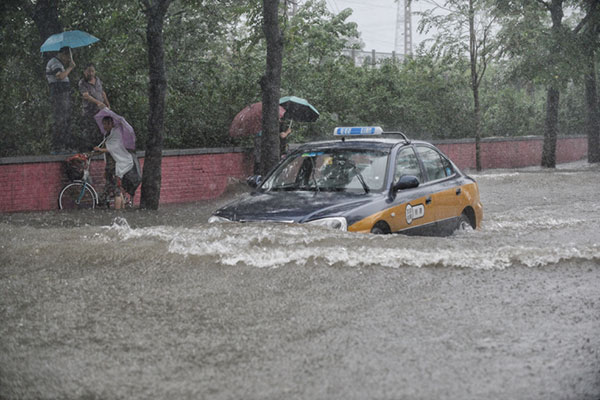 A taxi and pedestrians make their way in a flooded street in Beijing, July 20, 2016. [Photo/VCG]
Amid the heavy downpour, internet users see the lighter side. After the torrential rains pounded much of southern China over the past month, flooding streets and claiming over 160 lives, now it seems that the downpour has moved northwards.
Beijing on Wednesday issued an orange alert, the second-highest level under China's four-tier warning system, as rains lashed the capital.
When faced with potentially dangerous weather, some have the ability to see the lighter side. The young especially never seem to hesitate to share their thoughts online. Reactions mocking the whole weather situation went viral as soon as the rain started.
"I once genuinely thought that once I have a house and a car in Beijing, life could not be better. But the reality has told me that I need at least one more thing - a boat..." An internet user wrote.
"I went to the Beijing Zoo today, but sadly only saw the giraffe," another mocked.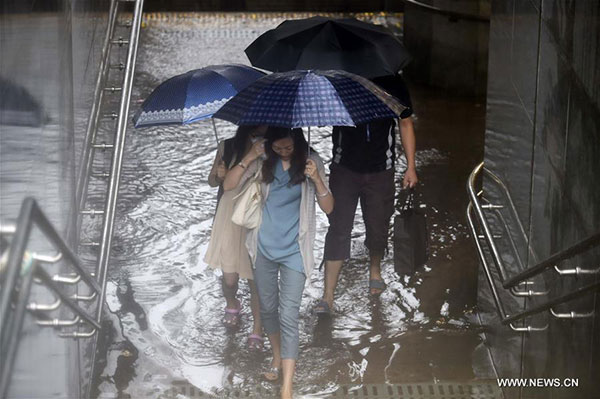 People walk past a flooded underground passage in Beijing, July 20, 2016. [Photo/Xinhua]
Besides, light-hearted stories are also flooding the Internet. Let's enjoy three of them.