Move by ministry would smooth process for high-end foreign talent, according to experts
China is planning to set up its first immigration office under the Ministry of Public Security before the end of the year.
Bloomberg reported on Tuesday that the office would be created by merging and expanding the ministry's border control and entry-exit administration bureaus, quoting a source it said had knowledge of the plans.
Public Security Minister Guo Shengkun, who doubles as a State Councilor, disclosed the plan earlier this year at an internal meeting about a wider overhaul of domestic security services, the report said.
Another insider confirmed the existence of a plan but told China Daily that there are no details yet. This insider said it was not clear whether there would be an intergovernmental organization to deal with immigration affairs.
The idea of an office specializing in immigration is the latest sign signaling the importance of foreign talent recruitment in China, as President Xi Jinping seeks overseas talent to help drive the transition to an economy led by consumer spending and innovation.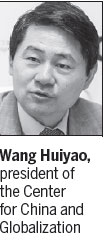 The central government released a document on foreigners' permanent residency in February that said it "will further improve the organizational setting and the delegation of responsibility of immigration affairs, and place the functions of drafting permanent residency policies, review, approval and daily service under a single agency".
Wang Huiyao, president of the Center for China and Globalization, said it's a good time for China to establish an immigration bureau.
"Foreign talent is important to help promote innovation and the setting up of new businesses. In the United States, one-third of patent holders, nearly half the founders or co-founders of its top 50 listed corporations and nearly half its doctoral degree holders in science and engineering are immigrants," Wang said.
About 600,000 foreigners work in China, a tiny proportion of the country's 1.3 billion people. By contrast, in major international cities, immigrants account for 20 to 80 percent of the population, according to the International Organization for Migration.
Wang said an immigration bureau should integrate responsibilities that are now scattered throughout many government departments.
"With such a bureau, the government would be able to enhance its work efficiency and provide better services to foreigners residing in China," Wang said.
"The bureau would also help China better deal with illegal immigrants, maintain good public order and better protect the interests of legal immigrants," he said.