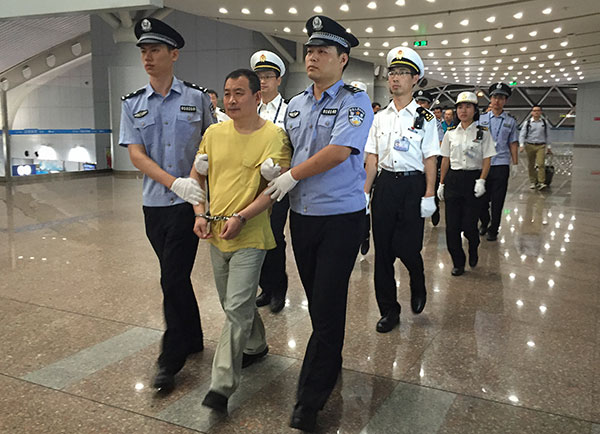 A smuggling suspect surnamed Huang is escorted back to China on Sunday after being in Peru for 18 years. CAI YANHONG/CHINA DAILY
A man suspected of involvement in smuggling and tax evasion was brought back to China on Sunday after being at large in Peru for 18 years. He is the first criminal suspect that China has successfully repatriated from Latin America.
The man, identified only by his surname, Huang, is suspected of playing a role in smuggling 107,000 metric tons of crude soybean oil nearly two decades ago, according to a report in Legal Daily.
Authorities say Huang and other suspects smuggled the oil and sold it through several companies in Wuhan, Hubei province; Shenzhen, Guangdong province; and Shanghai between 1996 and 1998. More than 700 million yuan ($105 million) in taxes were evaded, the report said.
Huang and two other major suspects escaped to the United States via Hong Kong after police started to investigate in 1998, and Chinese customs authorities have been trying to track them down since then, the report said.
In June 2001, Interpol issued a global arrest warrant for Huang. Chinese customs authorities also requested assistance from Interpol in Peru after finding out that Huang had entered that country. Huang was arrested in Peru when he tried to enter the country again in October 2008.
After eight years of negotiations between Chinese and Peruvian authorities for repatriation, Peru's judicial authorities finally agreed to send Huang back to China in May, the report said.
Wuhan customs, which handled the case, could not be reached for comment on Sunday.
China has intensified repatriation efforts aimed at bringing back economic fugitives, including corrupt officials, who have fled Chinese justice in the past few years.
Last year, Chinese police seized 857 fugitives from 66 countries and regions-a record number, according to the Ministry of Public Security.
In the first six months of the year, China brought back 381 fugitives from more than 40 countries and regions, and recovered assets totaling 1.24 billion yuan, the Central Commission for Discipline Inspection, the country's top graft buster, said on Friday.
As of Friday, 33 fugitives named in a list of the 100 most wanted Chinese fugitives, released by Interpol's National Central Bureau of China last year, had been brought back to China for justice, the commission said.
Two on the list returned and confessed last week after living in the United States and Australia, the commission said.
Zhu Haiping, 53, who worked for Civil Aviation Administration of China's branch in Hubei province, was suspected of fraud and fled to the US in 1998. Guo Liaowu, 50, was suspected of bribery and fled to Australia in 2010. He was a deputy manager of a subsidiary of Wuhan Iron and Steel Corp, a major State-owned company.