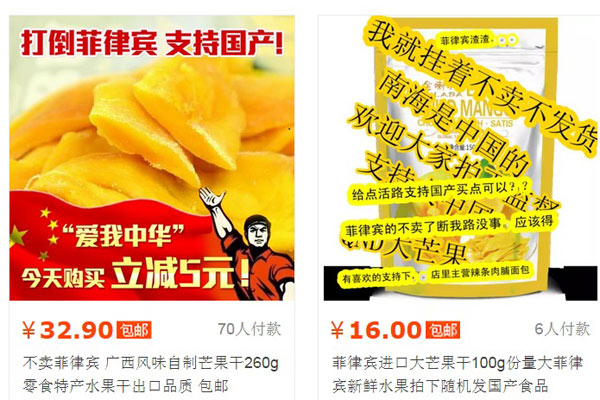 A screen shot shows advertisements of dried mango imported from the Philippines on online shopping site Taobao.com.
An increasing number of vendors on China's online shopping site taobao.com have stopped selling dried mango imported from the Philippines since The Hague tribunal ruled against China in the South China Sea on Tuesday.
On the search page of the site, instead of the pictures of golden dried mango imported from the Philippines, many sellers put a map of China highlighting the South China Sea with words "I will never sell this product again. I am a small vendor and a Chinese, too."
"It's not for show. I mean it. No more imported snacks from the Philippines," said Jiajia, a snack vendor who declined to give her surname. "It's my own way to protest, and I will literately throw way the rest of the stock."
Jiajia, of Guangzhou, Guangdong province, has been running the shop specializing in imported snacks on taobao.com for three years. She had 2,977 sales of dried mango from the Philippines this month before she refused to sell them on Wednesday.
Meanwhile, many sellers of domestic dried mango changed the name of the product to "patriotic dried mango".
Mango from the Philippines has been touted as the best mango in the world, and the industry has provided many jobs for the locals. Dried mangos from the Philippines are popular in China and available in most major supermarkets.
Chinese tourists have also reacted to the ruling. Xu Xiaolei, spokesman for China Youth Travel Service, said a small number of clients requested to change their holiday destination from the Philippines to other Southeast Asian countries such as Thailand, Indonesia and Malaysia.
"The Philippines is among the top-10 overseas holiday destinations for the Chinese. In the short term, I don't think tours to the country will be affected," Xu said.
Contact the writers at cuijia@chinadaily.com.cn