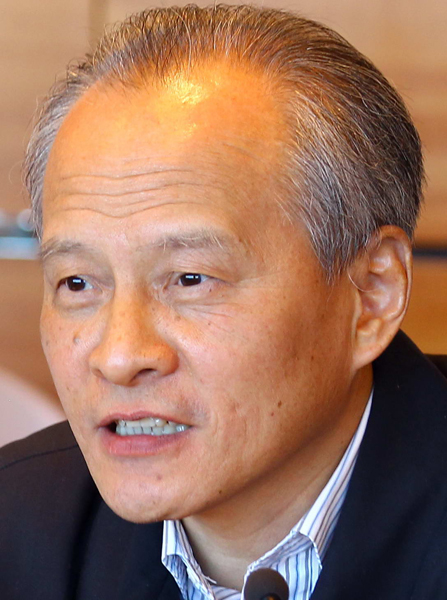 Cui Tiankai, China's ambassador to the US
China urged the US and Japan on Wednesday to stop distorting international law and using the "arbitration" on the South China Sea to serve their own political aims.
Cui Tiankai, China's ambassador to the US, said at the Center for Strategic and International Studies in Washington on Tuesday that these territorial issues in the South China Sea should not become issues between China and the US.
"We will not yield to any pressure, be it in the form of military activities, media criticism or some self-claimed legal bodies," he said.
"We hope ... they can treat the international law seriously, not like playing a game, and not to distort and selectively abuse the international law to serve their hidden political aims," Foreign Ministry spokesman Lu Kang said at a regular press briefing on Wednesday.
Lu was referring to countries including the United States and Japan that pressed China to accept the ruling.
Late on Tuesday, Lu issued two statements on the ministry's website, saying China is firmly opposed to statements from the US and Japan. China has lodged representations with the US, he said.
"It keeps urging others to abide by the United Nations Convention on the Law of the Sea while refusing to ratify the convention to this day. What makes the United States think that it is in a position to make all these irresponsible remarks against others? " said Lu.
He said Japan should be very clear about the history of the South China Sea issue because the Chinese islands were taken by Japan during World War II and were returned to China after Japan's defeat.
He urged Japan to respect the postwar international order and stop interfering in the issue.
Ding Gang, a researcher at Renmin University of China, said the ruling can be a turning point toward either increasing or decreasing the risk of conflict between China and the US, depending on whether Washington can correctly understand and respect China's strategic intention in the region.
In the US, various Chinese groups called on Tuesday for all Chinese in the world to unite to defend China's sovereignty over the South China Sea in response to the ruling.
Twenty-eight affiliated chapters of the Association of China Peaceful Reunification of the United States and Federation for the Unification of China in America expressed their stances in different locations in the US that day.