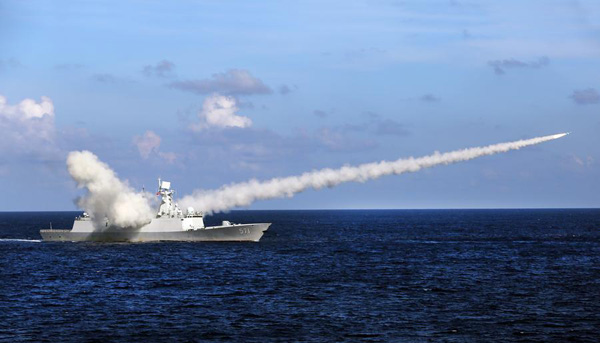 Missile frigate Yuncheng launches an anti-ship missile during a military exercise in the water area near South China's Hainan Island and Xisha islands, July 8, 2016. [Photo/Xinhua]
Chinese internet users have paid much attention to the South China Sea Arbitration in recent days, and argued against the international tribunal ruling made on Tuesday.
The Arbitral Tribunal, appointed by the Permanent Court of Arbitration in The Hague, announced on Tuesday that China has no "historic title" over the South China Sea.
The Foreign Ministry said the ruling "is null and void and has no binding force".
The government issued two statements to highlight that Chinese activities in the South China Sea date back more than 2,000 years, pointing out that China is the first to have discovered, named, explored and exploited the South China Sea Islands and surrounding waters.
As of 10 am on Wednesday, posts related to the South China Sea arbitration on Sina Weibo, a Twitter-like service in China, have been viewed 740 million times, and 172,000 people joined in the discussion to publish more than 684,000 comments.
Meanwhile, the posts related to the ruling have been viewed 240 million times, and more than 4,000 people left 272,000 comments.
Most of the comments showed that Chinese internet users strongly protested the arbitration and the ruling, arguing for China's historic rights over the islands and waters in South China Sea.
Some suggested China should protect the territory even if it means war. "Fight for every inch of land." "A grain of sand will be protected there."
Some internet users left humorous comments to show the South China Sea Islands belong to China, such as "Where Guanyin (Bodhisattva Avalokitesvara) of The South Sea will live?" Guanyin is a mercy goddess lots of Chinese believes in.
Some internet users criticized the Philippines in comments, saying the Philippines should talk with China directly over the disputes and the United States should not stir up trouble in South China Sea.
Lots of internet users have praised a video made by a Taiwan youth who elaborates the history of the South China Sea in the video and says that Taiwan and the Chinese mainland should protect the South China Sea together.